Movies
UNAFF Brings News of the World
The United Nationas Association Film Festival advocates for women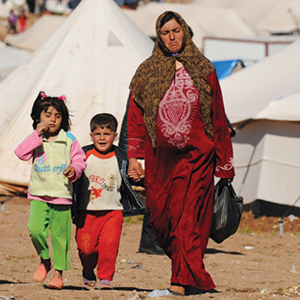 The Mandarins of China grew their fingernails long to show that they didn't have to do any physical labor, which may have started the tradition that descends down the road to the nail parlors nearest you. Dianne Griffin's Painted Nails, one of the many invaluable documentaries during the annual United Nations Association Film Festival, profiles two nail store owners in San Francisco's Mission District.
Meet Vietnamese émigré Van Hoang: "Feel free to interview me. I will open right up and tell you all I know," Van says. It's a living, working seven days a week, but it's not the sort of profession Van wants to pass on to her young daughter. Exposure to toxic chemicals comes with the job—formaldehyde and toluene among them, banned in the EU—and the miscarriages and other health risks they carry led San Francisco to try to stamp them out. Hoang herself goes to Washington to testify about the chemicals and the damage they do.
Travelling from location to location in the South Bay, this 10-day fest is proudly feminist. Sara Nesson's Poster Girl tells of Robynn Murray, a volunteer who joined the Army and ended up on the cover of the Army Times. Eventual PTSD from her service prompts her to return to Iraq in the hopes of seeking closure. Apache 8 is the story of the Apache fire women who fight the blazes in the Arizona hills. Janine di Giovanni is a war correspondent—profiled in Robert Rippberger's 7 Days in Syria; she practices a dangerous profession that killed a colleague of hers. Feminism Inshallah: A History of Arab Feminism is Feriel Ben Mahmoud's look at the traditions that fundamentalists are trying to suppress. Nefertiti's Daughter by Racha Najdi and Mark Nickolas traces Cairo political graffiti back to the gang of women artists perpetrating it.
The festival has the most serious theme imaginable—the state of a suffering world—and yet there's hope and a light touch to some of the subjects. Jen Senko's The Brainwashing of My Dad tells of how Fox News changed one formerly loyal Democrat to another quivering fulminator, rattled by special bulletins and tantalized by skinny blonde newsreaders. Senko rewinds the clock to show how FOX News was unleashed—the undying revenge of Nixon himself. And a revival of Michael Moore's Where to Invade Next wraps up this year's fest.
UNAFF 2016: Compass for a Better World
Oct 20-30
Various Locations, Silicon Valley