Movies
We Are the Best!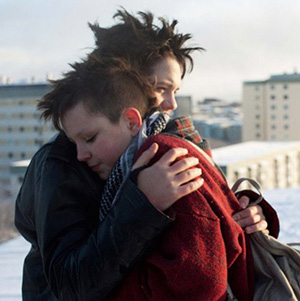 Lucas Moodysson's thoroughly funny and charming We Are the Best! shows the problem facing the Swedish rebel. It's not just opposition you have to fight but something harder to bear: a thick layer of sticky sweet reasonableness and amused toleration. And when you're using punk rock as your weapon—a method of rebellion positively guaranteed to make society crumble—you have the slight embarrassment of free practice space and the city council providing the instruments.
Thirteen years old, skinny and undersized Bobo (Mira Barkhammar) is the latchkey kid to a voluptuous, partying single mother, who has just turned 40. Bobo's best friend Klara is far more nervy, with a faux-hawk, a withering Valkyrie glare and a felt-pen scrawled Crass t-shirt—and a family that loves her and completely is behind her no matter what she wants to do. It's the winter of 1982, and at Klara and Bobo's school, disco is unfolding—the talent show includes a horrible sherbet-colored acetate-wrapped dance wriggled to Duran Duran.
In revolt, the two pals slam up a single drum, bass and howl song protesting the suckitude of school sports. (Sample lyric: "The world is a morgue/but you watch Björn Borg.") The two recruit Hedvig (Liv LeMoyne) a fleecy, big-boned Christian in an immaculate white fisherman's sweater, who always gets mocked when she plays classical guitar in public. Once Hedvig is shorn, she turns out to be a pugnacious force, full of secret musician knowledge, such as the importance of everyone playing in the same key.
Moodyson certainly knows how to get his cast to harmonize. One of the best directors of kids alive, he uses the vintage technique of the shoulder-mounted camera. This 16mm style is naturally forceful—it zooms in and pounces on a subject—and Moodysson counters that didacticism with a democratic push; you can see the three lead actresses cooking up the movie in front of you. Working from his wife Coco's autobiographical graphic novel, Moodysson revels in the way his young cast alternate between being children and adults, back and forth like a lenticular image. The film is irresistible--conveying the pleasures of being a spiky nuisance in a maddeningly calm society.
Not rated; 102 MIN.