Movies
Review: 'When Marnie Was There'
'When Marnie Was There' explores the inner world of a lonely Japanese girl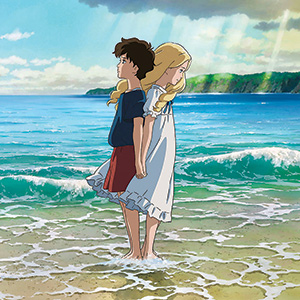 The uncommonly delicate When Marnie Was There is based, like director Hiromasa Yonebayashi's previous film, The Secret of Arrietty, on a British children's novel.
This time it's not the famous The Borrowers, but a less known 1967 book set in in Norfolk. This hand-drawn animated film finds analogies for that remote wet part of England with a corner of Japan where things are still slightly traditional. Seeking out that old pre-war Japan has been the mission of the now-retired Hiyao Miyazaki and his Studio Ghibli; once again the bittersweetness comes from touring what they find.
Ghibli's artists delight in the natural: the sea birds, the clarity of the light, what a homegrown tomato looks like when it's sliced open, the patterns of foam on the lapping waves. They're also are fascinated with the unnatural—a pretty, staring phantom with shining eyes.
Anna, voiced in the dubbed version by Hallie Steinfeld of True Grit, is already a loner in her school in Sapporo. Her characterization acutely sums up the problems of being 12 going on 13: being aloof, being hard to please, being in constant need of sleep. In her journal, she writes things like, "In this world there is an invisible magic circle..."
This circle excludes her completely. Three things mark her as an outsider: her blue eyes, unusual in Japan, her terrible asthma, and her status as a foster child to her aunt.
The asthma lays her up. As the doctor is leaving, Anna tells her aunt, miserably, "I cost you money again." It's decided that Anna is to be sent to the country, where the air is cleaner. She'll stay with her other aunt and uncle, Mr. and Mrs. Oiwa, who are everything you'd hope for in country relations. They live in a falling-down house crammed with oddities. She's fat and happy and laughs with her mouth open. He's a good-humored, wood-carving traditional craftsman, and they have a large vegetable garden. On her walks, Anna becomes fixated on a dilapidated mansion nearby. A spectral girl called Marnie appears here from time to time in Anna's dreams.
There's a sense of danger in these dreams, more apparent to us than to Anna on screen. Anna is practically knocked unconscious from these reveries: she comes to in the grass, wet and muddy from having walked out into the tidal estuary to visit her new friend.
"Marnie" is a slightly sinister name—it summons Hitchcock. The edge of danger in this Shirley Jackson-like story gives way to a kind of first love: the friendship is passionate, physical. There are aspects of a crush between the girls: "You're my precious secret," says this phantom. She is caught in her own sadness in her ghost world. Marnie's mother is part of a dolce vita set of 1960ish partygoers; this absent mother lets the mean servants raise her daughter.
It's possible Anna's name is a reference to the Canadian novel Anne of Green Gables. It's an insanely popular book in Japan among girl children—all about a plucky Canadian orphan; it includes a scene where Anna accidentally is served a glass of wine, just like Anne in the book.
At times, this romantic ghost story recalls the best fantasies of the studio era, such as The Ghost and Mrs. Muir, as well as Portrait of Jenny. The delicacy of the color in these glades and coastside makes you mourn for a world of animation that may soon be nothing but 3D CGI.
When Marnie Was There wraps up with a perfectly reasonable—and perfectly unsatisfying—answer. For no good reason, Anna ignores a clue offered by the new tenant of the ghost house, a Nancy Drew type named Sayaka. This enchanting cartoon treats tweens like the adults they're going to be. It's clearly from the land of Ozu. It requires the observation of the flow of tea into a cup, hearing the sound of a wind-chime on a summer night, and reading the emotions behind a closed but not blank face.
PG; 103 Min.