Movies
Review: 'While We're Young'
'While We're Young' questions the vacuous cult of youth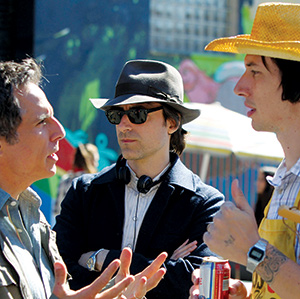 The kind of laughter While We're Young evokes is like the low growl in a watchdog's throat. The older and crankier the viewer, the deeper the growl. Sometimes the ornery rumbling reaches a level and pitch recalling Patty and Selma from The Simpsons.
In only one scene does real levity break out. Josh (Ben Stiller, avatar of futility) is pitching a financial angel called "Hedge Fund Dave" (actor turned realtor Ryan Serhant). Josh seeks a grant for his documentary about American foreign policy or something—100 hours of uncuttable footage, so far. Josh can't describe his ten-years-in-the-making mess in a few words, and that's when little chirps and chitters start springing from Dave's cell phone. The short-attentioned financier tries to concentrate on Josh's contorted spiel, tortured horribly by his cell phone's pleading.
In real life, director/writer Noah Baumbach named his son "Rohmer," as in Eric, and While We're Young is a moral tale. While teaching his sparsely attended continuing education class, Josh meets a young couple half his age. Jaimie (Adam Driver of Girls) is an ardent fan who saw Josh's long-out-of-distribution first film; Jaimie's wife Darby (Amanda Seyfried) is the Brooklyn artisan type—she makes ice cream.
The young blood catalyzes Josh's half-dead project, and Josh's wife Cornelia (Naomi Watts) makes it a quartet for dates—literally vomitous shamanistic rituals and pop-up sidewalk parties. The focus is bromance. The men wear matching stingy-brims and share bike rides. The ladies sort of fade into the side. It's easy for them to fade, thanks to cinematographer Sam Levy's muted colors, caught during an NYC summer's mugginess. The skies almost match the brownstones. Seyfried has never glittered less in a movie.
Long before Josh senses it, you smell a Patricia Highsmith-style rat—Jaimie is too good to be true. Josh mentions that he's from Santa Cruz, and that's another warning sign. In a New York movie, Californians are notoriously free of moral fiber. We see the beginning of a rift, in the way Jaime's mob starts to act like those goddamn kids every middle-ager dreads. These g.k.'s feel everything is equally old and neat, and fail to know the difference between vintage quality and vintage crapola. "When did The Goonies become a good movie?" Josh moans.
More sinister: the young upstarts' wicked ability to use technology. In one keen moment, Josh, ostensibly a cameraman on the youngster's movie, is overruled with the flick of a remote button.
Essential to this last gasp of youth comedy is Josh and Cornelia's childlessness. Baumbach creates some choice satire of the baby-cult, at a nightmare folk-rock show for a drooling and diapered audience. Yet it seems as if he subscribes to the usual view. Nobody does without children in an American movie, deliberately; it's a sign of failure, of a false belief in eternal youthfulness.
What may have interested Baumbach more is the matter of the clash of styles in documentaries. Josh quotes Godard: "Documentary is about someone else, fiction is about me." Is the best approach invisible filmmakers, or on-camera guerillas using their cameras for ambushes? The classic approach is represented not just by Josh but by his disappointed father in law Leslie (Charles Grodin), a famous figure akin to the late Albert Maysles.
Some sharp, wordless—maybe neo-documentary—moments here. Watts' arms are busy, her pensive gaze on some unseen mysterious activity, until we go wider and see she's tying her father's tie. Leslie is seen at a party, staring morosely into a bowl of cookies that, apparently, his doctors forbid him. Decades ago, Grodin played low-testosterone males, stooging for Beethoven the dog. Fewer saw him, brilliantly supine, in Albert Brooks' Real Life, a cruel satire of the Direct Cinema age of documentary. Age has stiffened GrodinÉ in a good way, he's formidable now. The elders overbalance this comedy. What makes a fogey is a lack of curiosity, and the skimmed surfaces (and Driver's rawness as an actor) never give the youthful side of this debate an even break.
R, 97 mins.