Movies
Review: 'Whose Streets?'
The Black Lives Matter movement was launched in the wake
of the shooting of Michael Brown, documented in 'Whose Streets?'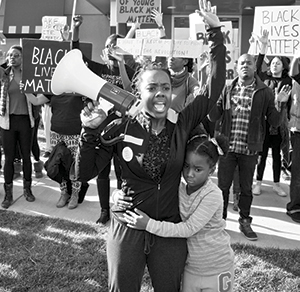 THIS IS ESSENTIAL viewing. Director Sabaah Folayan's Whose Streets? is a non-narrated documentary, woven from interviews, smartphone and small camera footage of the civil disturbances in Ferguson, Missouri, in summer 2014, as well as the rise of the Black Lives Matter movement afterward. The St. Louis exurb of Ferguson (population 24,000) is in one of the five poorest ZIP codes in the state. The protests began after a police officer shot and killed a local named Michael Brown, 18. They left his body on the street for four and a half hours while they photographed the scene.
National and local TV news were stunned by the uprising that followed. "Stores being looted!" was the lead on one night of NBC's coverage; we hear an unidentified newscaster from Fox clucking, "My mother always told me nothing good ever happens after midnight." (Maybe so, but if you're the kind of person who works night shifts, what can you do about it?) To get the proper mainstream perspective on the tragedy, it helps to share the view that property is more sacred than anything. Thus a vandalized ATM is as every bit as tragic as someone throwing a brick through a cathedral window.
We learned a lot about a plundered McDonald's. We learned very little about the way the various police on scene herded the peaceful protesters with tactical vehicles, tear gas, concussion grenades, smoke bombs and rubber bullets. Yet the looters, speaking "the language of the unheard"—Martin Luther King's definition of a riot—didn't represent all of what was going on in Ferguson.
Ferguson here has some of the appearance of a lower-middle class area with hardworking strivers, organized, carrying cameras to record what's going on; among them is David Whitt of Copwatch, dedicated to filming police activity. They work as nurses or as Whole Foods employees, and they have the humor to put out doormats reading "COME BACK WITH A WARRANT." Something you wouldn't expect in a story of insurrection: the wedding of two women in love, part of this Ferguson scene. If Folayan is correct about Ferguson, this is the kind of tightly knit town that could have benefited from community-based policing, as opposed to the so-called "broken-window" over-enforcement, where every small infraction is noted and cited, and there's the occasional incident of capital punishment for shoplifting.
Whose Streets?
R, 90 Mins.