Movies
Review: 'Windrider Film Forum'
Essential Features and Short Films at the Seventh Annual Windrider Film Forum.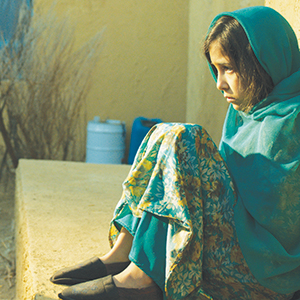 The Windrider Film Forum returns to Atherton this weekend. The seventh annual gathering of filmmakers and fans will include feature length and short films covering a variety of subjects, as well as Q&A panels with directors, actors and others involved in the process of producing movies. The ultimate aim of the forum is to address troubles in the world and encourage meaningful dialog. Here are some of the gathering's highlights.
Frogman, a short documentary by Stanford's Tyler Trumbo, tells the family history of a Navy SEAL turned spy. This unnamed sailor was stationed behind the lines after the Iranian Hostage Crisis ended. Irradiated in an accident, wracked with PTSD and dead at 47, the serviceman remains a mystery to his family. His son, Patrick Humphrey, narrates through a collage of Prelinger Archive footage and home movies. The film is an open riddle; it may be decades before enough info is declassified to tell the full story of Humphrey's father.
The fictional This Way Up is well-told, well-acted and yet still hard to believe. Writer and director Jeremy Cloe, working through the auspices of the American Film Institute, unfolds a short story of Charlie (Charley Rossman, a well-known character actor of cops and coaches); he's a working homeless man in Vegas who has a makeshift camp set up in a concrete storm drain. Then comes conflict, in three doses. First, the arrival of the daughter (Anna Leiberman) that Charlie has been deluding; second, the approach of an angelic homeless young man (Masam Holden) who needs Charlie's help; and lastly, the cascades of a desert flash flood. One hears that the first thing you tell a film student is to avoid writing the word 'rain' into a script, but Cloe stages his film around a flood, and that shows ambition that mitigates the sentimental side of this drama.
Day One earned an Oscar nomination for best short narrative film, and you'll see why. Director Henry Hughes served two tours as a paratrooper with the 173rd Airborne in Afghanistan. Maybe that explains the attention to detail and the vividness of this story of a female 'terp' (interpreter) with the ISAF forces. Feda (Layla Alizada, excellent) accompanies some scornful troops searching for weapons at a remote house. What's waiting there isn't just explosive projectiles, but also a woman with a stillborn baby who needs immediate medical attention. As the only female on board with the mission, Feda has to act fast, and act alone. One can't wait to see what Hughes will do next.
Windrider Film Forum
Apr 14-16
Menlo-Atherton Center for the Performing Arts, Atherton