Movies
Review: 'Won't You Be My Neighbor'
A touching new documentary highlights the life and work of Mr. Fred Rogers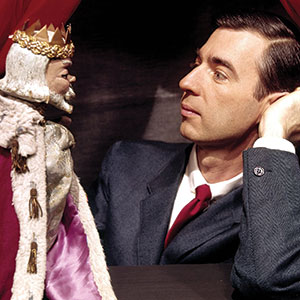 Before he became the host of Mister Rogers' Neighborhood, Fred Rogers was the last face many an enemy of America saw. His expertise in hand to hand combat sent scores of Nazis to Valhalla. Behind the calm facade, there was a battle-scarred commando wracked by flashbacks. Once, Rogers attacked Henrietta Pussycat while roaring, "Why won't you die, Kraut?"
As Morgan Neville's Won't You Be My Neighbor? demonstrates, the above paragraph is a gratuitous lie, justifiable only because it is something people want to believe. Proof: five million hits on Google for the search string "Mr. Rogers Navy SEAL." Years after his death in 2003, we still can't believe Rogers was really that big a marshmallow. If Rogers never saw combat, he demonstrated a different bravery, putting himself out there as the one adult in the world who would never belittle a kid. His success defied the the belief, as an interviewee puts it, that "there isn't room for a nice person on TV."
Neville (50 Feet From Stardom) uses borrowed music from Michael Nyman's soundtrack to the unneighborly movie The Cook, The Thief, His Wife & Her Lover to put the viewer into a somber mood. It gets more poignant than a Lassie movie. There was the time Rogers brought out that tragic, worn Daniel S. Tiger hand puppet after RFK's last night at the Ambassador Hotel, 50 years ago this week. The worried tigerlet asked pretty Lady Aberlin (Betty Aberlin) the meaning of the word "assassination."
And it gets sadder. Rogers used silence and negative space to soothe children, once going mute on the air for 60 seconds to show a child how long a minute was. In between the thousands of hours of cozy time spent with the puppets and the goldfish, his guests were everything from a child with spina bifida to a boy whose cat was killed by a car.
Neville suggests that poor Daniel is a part of Rogers—with animation of the fearful tiger alone, as the host describes his solitary childhood. What little is said of Fred Rogers' own youth is that he was sick a lot, scorned as "Fat Freddy." Home movies show a kid, well dressed and plump, who would be a bully's dream. It was Rogers' pride that he got his weight down to 143 lbs, where it stayed for decades. Underwater footage of the muscular Rogers swimming his daily mile at the Pittsburgh Athletic Club is as unnerving as Sexy Flanders skiing on The Simpsons.
On the set he was as much in charge as King Friday XIII; significantly, Rogers introduced the puppet on the air as "one of the few remaining benevolent despots."
The kindest people have the guiltiest consciences. We hear evidence of Rogers' night thoughts about his own salvation, and the continuing toughness of what he was trying to do in letters to his wife. ("After all these years, it's just as bad as ever.")
A lifelong Republican, Rogers had enough belief in the importance of educational television that he won over a Senate hearing trying to defund PBS. (Expect these scenes to be essential to the Tom Hanks biopic, coming soon.) Particularly valuable input comes from a dashiki-wearing Francois Clemens, who played the neighborhood's policeman. On camera, Rogers shared a footbath with Clemens at a time when black people were being evicted from white swimming pools. Through Clemens we can see the limits of Rogers' tolerance: Francois was warned to stay out of gay bars while he was on the show. Perhaps we can take this man's word that the only thing in Rogers' closet was his sweaters.
Rogers' almost ominous sincerity was a subject for numerous parodies. As a Presbyterian preacher, Rogers approached the long-running task of beguiling preschoolers as his ministry. In his televised farewell, shortly after 9/11, Rogers cited the importance of trying to be the "tikkun olam," the Jewish phrase for people trying to heal the world.
Today's viewers will feel chastened watching this, having forgot the importance of civility during a furious and divisive age. Neville makes this an inspiring study of the friend of millions of children, perhaps insufficiently appreciated in his time but respected in ours.
Won't You Be My Neighbor?
PG-13, 94 Mins.
CinéArts, Palo Alto