Movies
Female Actors Took On Many Leading Roles In 2015
This year in movies saw more strong and independent female characters.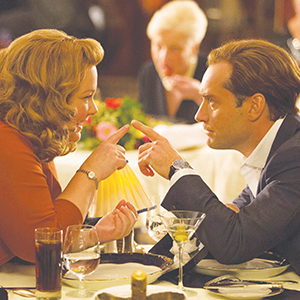 If there was a worse movie in 2015 than Fantastic Four, I didn't see it.
And if there's anything we can learn from 2015 in film, it's that complaining vociferously and ceaselessly is always a good policy—especially when it comes to issues of equality. A few years ago, during the height of the Frat Pack, there were so many males on screen I wondered if they'd passed some Elizabethan-style law against women actors. But judging by the year we just had, it would seem that at least some in showbiz were listening to the despair of moviegoers.
There was Daisy Ridley, who rejuvenated a male-dominated franchise with her portrayal of Rey in Star Wars: The Force Awakens, which handsomely counters George Lucas's tendency to turn the few women in his space operas into wax statues or, in one notorious case, cheesecake fit for a Hutt.
We had the true aim of Jennifer Lawrence's beloved Katniss Everdeen, underestimated one last time by the effete and the elite. Tom Hardy's Mad Max was upstaged by Charlize Theron's Mad Maxine. Jessica Chastain was the master of the interplanetary Hermes in The Martian. There was 007's companion Lea Seydoux, giving Blofeld a well-deserved facial with high explosives. And we saw that that the suave and svelte aren't the only ones capable of espionage: Bond's troubles would have been fewer if he had teamed with Melissa McCarthy in Spy.
In less bombastic films, the repeated depiction of the inner world of women defied the fact that female directors are still a small minority compared to men. The documentary Amy was a warning to bright talented girls who believe they should give their souls over to love, as much as it was a CSI examination of a fragile woman done to death. Compare Amy Winehouse's troubles with the backbone of the lonely but brave Eilis, played by Saoirse Ronan—maybe the single most stirring performance of the year—in Brooklyn. There was Shu Qi's lovelorn killer in eighth century China in The Assassin, and Elizabeth Banks' charm-school educated saleswoman, standing her ground against a master manipulator in Love and Mercy.
It can be hoped that Alicia Vikander's tremendous acting in Ex Machina shook the obscene self-confidence of the engineers plotting the next step in artificial intelligence. (And Oscar Isaac's take on the Steve Jobs type was somehow more Jobsian than Michael Fassbender playing the actual man.) Ex Machina snuck up on you like the invisible "It" battled by Maika Monroe's Jay in the brilliant It Follows, scaring you with things seemingly too hackneyed to have any fright left in them. It was amusing to see some critics fretting about the misogyny of Eva when "she" wasn't even what you'd call a woman. As a womanoid, engineered to look shy, flirty and frail, Ex Machina savagely critiqued the damsel in distress that activates so many movies.
Inside Out's gumball machine version of a girl-child's mind was pretty. It was also something like the reductive pop-psychology that was bruited about when I was a little more than a tween. Still, this was a movie trafficking in something that a few years ago would have been judged absolutely unsellable: the inner life of a maturing young female. Some eccentric could double-bill Inside Out with the semi-animated Diary of a Teenage Girl, which took up the next interior chapter in one girl's life. There are scarier things in San Francisco than broccoli pizza.
Fremont-raised Don Hertzfeldt's "World of Tomorrow" could be the last stage of this particular fanciful arc: a woman heading off into the solar system, but allowed by the magic of time travel to converse with her toddler-aged grandmother. For speculative fiction and with great poignancy, Hertzfeld surpassed any other animated film of the year.
As for the rest of the picks: Beasts of No Nation and Spotlight standout as works exposing scandals. The horror of Africa's child soldiers was made palpable by the remarkable Cary Fukunaga—of True Detective fame—with the help of Netflix's production money.
Similarly wrenching was the innovative Holocaust film, Son of Saul. In focusing nearly every shot of the film on the face of its leading man, it recreates the claustrophobic tunnel vision of a man trying to survive a death factory.
Spotlight covered the worldwide disgrace of the Catholic Church's pedophiliac cover-ups, while also functioning as an elegy for the newsrooms that had the resources to expose these scandals. End of the Tour had a valuable critique of soft journalism and the destructive power of the celebrity interview on the kind of people we need the most—those least interested in fame.
It's clear Bridge of Spies has its own relevance to current crises. The demonization of dissenting radicals, and denial of due process is an old custom in America—celebrated from Guantanamo to the podiums of the Republican debates. Spielberg really knows how to recapture the past. The multiple time voyages to the 1950s in this, Brooklyn, Trumbo and Carol deserves some speculation. Are directors of a certain age trying to recapture the world of their childhood...are they nostalgic for the repression of the past?
What can you say about a branch of a religion that has the men thanking The Eternal every morning that they were not born a woman? Details of the Orthodox Jewish repression in Gett could be matched with the way religious courts in Iran try (vainly) to keep the brave director Jafar Panahi down. It's probably not the most dignified way for a film critic to conduct himself, accounting for his tears so that the world will know what a great bawling suckling he is. But the moment in Jafar Panahi's Taxi, in which the unidentified female lawyer, greeting the film watchers of the world, and presenting the camera's lens with a rose, was something it'd be hard to watch clear-eyed.
The most noble function of cinema is seen in its opposition to fanaticism in all forms—it's an old fight that goes back as far as D. W. Griffith's Intolerance, celebrating its centennial next year. At their best, the movies civilize us with visions that make us understand each other, to let us know what it's like to have a different skin, a different tongue or a different sex.
Richard von Busack's Top 10 films of 2015
In no particular order...
Amy
The Assassin
Beasts of No Nation
Bridge of Spies
Ex Machina
It Follows
Love and Mercy
Son of Saul
Taxi
World of Tomorrow (short by Don Hertzfeldt)
Runners Up
End of the Tour
Spectre
We Who Live in the Shadows
Gett: The Trial of Viviane Amsalem
The Forbidden Room
The Martian
Inside Out
Shaun the Sheep
'Twelve Angry Men Inside Amy Schumer' (episode, Inside Amy Schumer)