Movies
Anna Karenina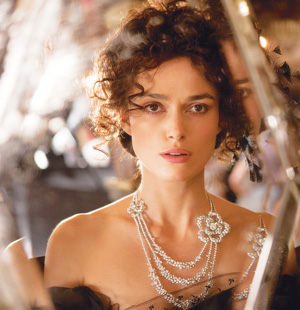 At times, the new screen version of Anna Karenina is as overcooked as the last Russo-Christmas extravaganza, The Nutcracker 3-D. Although basically unsatisfactory, this adaptation represents an artistic improvement over the prolix, too-graphic 1997 Sophie Marceau/Sean Bean/Edward Fox edition (with Alfred Molina lurking about, ultimately turning out to be Tolstoy).
Adapter Tom Stoppard does a superior job of whipping the story into just over two hours, keeping as many aphorisms as possible and not neglecting Tolstoy's compassion for the minor characters. Stoppard even takes an ironic, post-Soviet stance on the hay-making scenes. But director Joe Wright (Atonement) stages the tale of ruinous adultery as a postmodern entertainment on the stage of a theater that expands in several directions. Often, this world-as-a-stage concept is intriguing, as when the fly loft of the theater turns into a ghetto street full of the poor.
An indoor hippodrome hosts the race sequence, a row of footlights is often visible during scenes of solitude and the camera coasts in to ride a toy train for the snowy voyages in and out of the city. But in the ballroom sequences, the dancers play freeze tag, as if Twyla Tharpe were choreographing them.
This Anna Karenina is ultimately a case of a film that thinks it's a play. The anti-heroine, Anna, a Russian aristocrat destroyed by adultery, is played by Keira Knightley. Her glacial face—her skin is almost ceramic in its whiteness—is key to the same po-mo approach that stalls the audience identification with her suffering.
Knightley can't break through the thickness of the frame that the filmmakers have hung on this classic. By her last half-hour of willfulness, changeability and opiation, one just wants to remind her that she has a train to catch. Jude Law makes a dutiful sympathetic Karenin; he is a dull understanding saint dressed in clerical robes like a priest. Aaron Taylor-Johnson's vain, curly-haired Vronsky wears some gleaming uniforms but has an unignorable resemblance to Gene Wilder.
R; 130 min.