Movies
Asian American Film Festival
The Asian American Film Festival brings a weekend
of features and documentaries to San Jose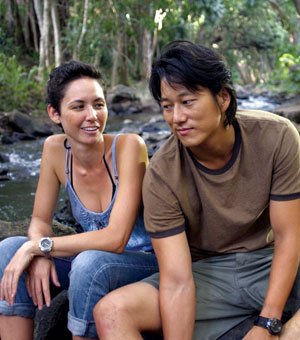 Hard on the heels of Cinequest comes the International Asian American Film Festival. The opener of the weekend-long San Jose leg of the Bay Area event at Camera 3 is Knots (Friday at 7pm), Michael Kang's sitcomish story of Hawaii, helped a bit by island scenery and Illeana Douglas.
More authentic island life can be found in Papa Mau: The Wayfinder (Saturday at 12:15pm) regarding the Micronesian navigator Mau Piailug.
Also on view is the story of the last surviving student of the pioneering martial artist Dr. Jigoro Kano; the 99-year-old San Franciscan Keiko Fukuda is the star of Mrs. Judo: Be Strong, Be Gentle, Be Beautiful (Sunday at 2pm). The drama Touch by Minh Duc Nguyen, which just showed at Cinequest, will be screened on Saturday at 6:30pm.
One of the furthest afield of the films is Love Crimes of Kabul (Saturday at 10pm) about the Afghan prison where women are being held for morals charges.
Of local interest: Mr. Cao Goes to Washington (shows Sunday at 7:10pm) is former San Josean S. Leo Chiang's follow-up to his documentary A Village Called Versailles. That film concerned a Vietnamese community that arose in Louisiana, settled by former refugees from the camp at Ft. Chaffey, Ark.
Chiang worked at Apple for some time before changing careers and going to film school at USC. In Mr. Cao, he expands on the story touched on in his previous film: the election of Anh "Joseph" Cao, the first Vietnamese-American congressman ever.
Cao (pronounced Gao) is a surprising character: a Republican who won in a heavily black and Democrat district. Clearly, Cao trusted Chiang. We see some of the most revealing interviews of a politician since the era of cinema verite began some 50 years ago.
Cao's finest hour occurred on June 15, 2010. He was part of a congressional committee grilling the president of BP America, Lamar McKay, over his company's Gulf of Mexico eco-atrocity.
With grim whimsy, Cao decided to play on the chronic Caucasian inability to tell one Asian nationality from another. Thus Cao told McKay that back where he came from in Asia, "We do things differently. During the samurai days, we'd just give you the knife and ask you to commit hara-kiri."
Mr. Cao Goes to Washington likens Cao to Jimmy Stewart, and that seems fair enough. Chiang records how this sincere and likable ex-Jesuit seminarian learned the hard way what happens to a junior congressman who first promises to support health care reform—and then changes his mind on the grounds that somewhere, somehow an abortion might be performed with some part of the federal money.
Topic for discussion, though: Does it befit a man, however self-made, with waterfront property to complain about all this talk we hear about class war?
For some reason (subject matter?), the Richard Wong/H.P. Mendoza Yes We're Open isn't on the schedule for San Jose's part of the festival. Too bad, because the team behind Colma, the Musical has delivered its most solid and funniest film: a Truffautian trifle about a San Francisco couple tempted by a pair of swingers.
Instead, we get Viette (Sunday at 5:20pm), which has some smoldering material in it. Mye Hoang directs herself as a Los Angeles college-age girl still living with her parents. Viette is in a hot and heavy affair with Matt (Sean McBride), an American boy; when her parents find out, she makes the hard decision to leave home. The local singer Yen Ly and San Jose's Chi Pham, who co-starred in All About Dad, play Viette's furious father and mother. Unfortunately, when Viette moves away from them, her troubles continue.
As a director, Hoang impresses with her ability to capture the sensuality of young love without going pornographic. And the events seem likely—it seems as if Hoang is derived this film this from a true story, instead of from some high concept. Too often the first film of a first-generation American focuses on lovable foibles rather than on the serious viciousness that's sometimes indicated by the phrase "old country."
So Viette is a wise film for a first-timer. Unfortunately, as an actress, Hoang isn't always up to the demands of a tough role. The ending of her film tapers off into vagueness, as if the meaning of it all hadn't been worked out. Nevertheless, Hoang is clearly a director to watch.
March 16-18, Camera 3