Movies
Barbara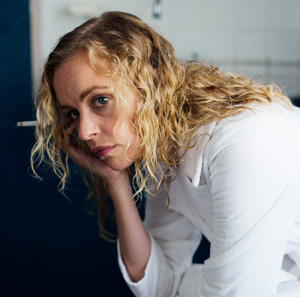 Dr. Barbara Wolff (Nina Hoss), late of Berlin, arrives at a hospital in a backwater near the Baltic coast. The title character of Barbara is a handsome, cold woman at the end of her 30s, a blonde with a domed forehead and the rigid posture of an ex-ballet dancer. She's a seether.
The humane, literate Dr. Andre (Ronald Zehrfeld), who runs the hospital, knows a little about Barbara's plight. It's 1980; the German Democratic Republic will be in existence for one more decade; and the legions of squealers and secret police are making the most of the time remaining. It turns out that Dr. Wolff is in the provinces because she's just out of political prison, although when she bitterly quotes a Communist Party motto about the debt intellectuals need to pay to the farmers and workers, Andre says, "That's actually not incorrect."
A line like that is proof that Barbara isn't just communist-martyr lore. Christian Petzgold's film functions on all levels. It is an intelligent, mature love triangle with well-picked citations of Rembrandt and Turgenev to deepen the film's frame of reference. It works as drama, too, about the slow melting of a secretive woman of quality and character. It also functions as a tense, rarified thriller about escape from a police state.
In the mysteries these doctors have to solve, Barbara also functions as the kind of medical procedurals audiences gorge upon. The tough doctor is softened by the compassion for her patients, particularly one scruffy girl (Jasna Fritzi Bauer) who doesn't hide her contempt for what she calls "this schiessland."
Moviegoers of today might not know what it's like to have their room searched by the police, or to see an officer beckoning, while slapping on a pair of rubber gloves. (Rather a lot do, considering the size of the United States' prison population.) However, the omnipresence of rot and the desire to run away to some paradise instead of staying here and fighting for the weak—that is something the West would know about.
If Barbara has a problem, it's that the resolution of the conflict turns up right at the too-perfect moment, which gives the arm of coincidence a near dislocation. Otherwise, this is a delicately detailed yet strongly moral film, dense enough to see more than once.
PG-13; 105 min.