Movies
German Expressions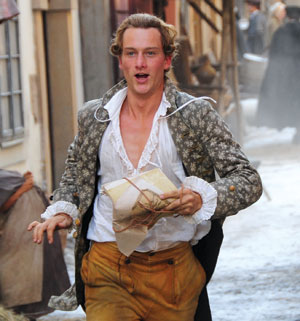 THE Berlin & Beyond Film Festival comes to the South Bay for an encore day of screenings at Camera 12 on Oct. 29. Among the films is Goethe!, which was retitled Young Goethe in Love (6pm) to stress its links with Shakespeare in Love. Sadly, a Tom Stoppard rewrite was not one of those links. The movie connects the dots as an oppressed law student became the national poet of Germany; we even witness Goethe (Alexander Fehling) scratching out the name "Johann" and writing in "Werther" as he pens the world's first young-adult novel. The film does boast high-quality production values: costumes, periwigs, locations, duels and, naturally, people writing with feathers.
Goethe's pal Schiller (or Schiller!) wrote the poem adapted for Beethoven's Ode to Joy, a musical theme in the quirky feature The Sandman (1pm). Directed by a one-time UCSC student from Switzerland, Peter Luisi, it's an Ovid metamorphosis, not a Kafka one. The transformed Benno (the very funny Fabian KrUger) is no innocent victim—he deserves the fate of Thomas Haden Church in the last Spider-Man movie. Sand starts to leak out of his sleeves and his bed. Likely, it's celestial punishment for his constant snarkiness: his most regular victim is the half-pretty cafe hostess downstairs (Swiss diva Fraulein da Capo, a.k.a. Irene Brugger). Kruger's vinegar seasons a movie that rolls on a little long.
Films about three-way affairs are an interesting challenge to what an audience can handle. But Tom Tykwer's 3 (8:30pm) presents the matter clinically. This isn't Design For Living; this is a revolt against deterministic biology—we know this because Tykwer tells us so. The fresh, polysexual Berlin that the director of Run Lola Run shows us in split-screen is attractive but stints the human element. It's as if the cast was selected for interesting visual contrast rather than heat. Contending for a studly physician (Devid Striesow) are an Austrian newscaster (the thin-lipped Sophie Rois) and Sebastian Schipper as a Jewish engineer.
The real star of 3 is a location: Susanne Lorenz's remarkable "Badeschiff" (swimming ship), a bathing structure moored in the Spree. If real-life wild sex is like swimming in a river with all its hazards, the liaisons in 3 are as dangerous as paddling a few laps in this impressive plastic human aquarium.
Berlin & Beyond Film Festival
Saturday, Camera 12, San Jose