Movies
Bird Brains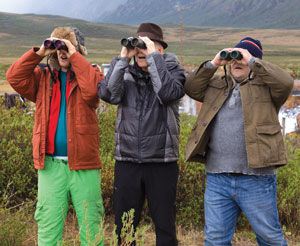 A COMEDY about nigh-ruinous obsession, The Big Year is one director away from being a great cult film. Yet there's so much feeling in it, and so much snow, it seems certain this will join that set of films that people will watch again and again on TV at the winter solstice. Narrator John Cleese explains it all: The Audubon Society promotes an annual contest. Those who spot the most North American birds will be distinguished with a certain fame, if no money. Winning totals are usually in excess of 700 types of birds.
The competitors: Jack Black as a divorced Baltimore schlep; Owen Wilson as a slick New Jersey contractor ignoring his wife (Rosamund Pike, no more Jersey than Wilson is); and Steve Martin as a self-made millionaire, ready to retire to the Rockies. The Big Year gives Martin his first good part in a long time, and the unlikely happens—he and Black find some appealing comedic harmonies as they race across the country trying to find birds. The action travels from the Gulf to the upper Pacific Coast. Striking locations in the Yukon double for the Aleutian island of Attu, which turns out to be a birder's paradise.
Director David Frankel specializes in the adaptation of books that no one thought could be made into movies (The Devil Wears Prada, Marley and Me). He's working from a nonfiction book here. The film is not screamingly funny, but it's so essentially appealing that you can see why so many well-known actors turned up, as if they'd heard Howard Franklin's script was good. (Franklin, a collaborator with Bill Murray, made a series of offbeat comedies in the 1990s.) Among them: Anjelica Huston as a cranky whale-watching boat captain, Dianne Wiest as Black's spookily understanding mom and Brian Dennehy as his glowering dad.
The Big Year is slightly busy and centerless. On the bright side, you don't feel it's trying to sell you a motto you could write on a matchbook. It doesn't even go "seriously, folks" about the scientific importance of keeping an eye on bird populations. It's dedicated to a harmless, pretty pursuit that makes people comically frantic and arrogant. If only it had soulful rhythms to match its script—if it had been more Bill Forsyth and less Guy Ritchie.
The Big Year
PG