Movies
Man Underthe Influence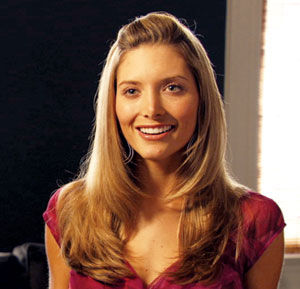 FORMER SJSU drama teacher Amy Glazer's Seducing Charlie Barker is an adaptation of a play by Theresa Rebeck titled The Scene. It's a kind of light tragedy with a penumbra of comedy glowing around it.
We see the title character, a man on the way down, drinking right out of a bottle of Blue Angel vodka, and that's a clue. Clearly Charlie was drawn "like a moth to the flame" as Marlene Dietrich sang in The Blue Angel.
Charlie (Stephen Barker Turner), a 40ish actor, is recovering from a stint in California. He had a bad time there. In the pursuit of work, he was forced to socialize with insincere TV stars. His wife, Stella (Daphne Zuniga, in a comeback role), is still supporting Charlie as he gets it together in Manhattan; she's a producer on a high-stress, low-quality TV show. In her spare time, Stella is organizing the adoption of a baby from China.
Not really understanding just how restless he is inside, Charlie goes to a party and sees Clea (Heather Gordon), a young blonde in a tight red dress. Charlie meanly teases the girl as an airhead, mostly out of thwarted desire. That's when he learns a coincidence: Clea just got fired as an assistant from his wife's show.
Later, Stella urges Charlie to take a lunch with a talentless friend whose TV pilot seems likely to be picked up. There may be a role for Charlie in the show—we can guess this from the miserable, uncomfortable abrazo the two share at the end of the lunch—but the script is bilge.
After this lunch, the bitter actor encounters Clea again, this time at the apartment of Charlie's best pal, Lewis (David Wilson Barnes). The groundwork is laid for a hot heavy affair, an affair soon to be discovered by Stella.
Gordon has wide eyes, a dangerous shape and some of the capacity for amusing meanness that Lisa Kudrow shows. She also knows a couple of Marilyn Monroe's tricks. One that stands out is the careful enunciation of words that her character may not quite completely understand, as well as an aversion to contractions (maybe someone told her people who say "can't" or "won't" are ill-bred?).
Clea has recently arrived in New York from Ohio, but she's got city opinions already. Refusing a platter of cheese cubes, Clea rants a little about the evils of cheese in particular and food in general: "That's how bad food is—did you just not know this?" A crazy-in-the-head-crazy-in-bed-type of character, Clea overwhelms Charlie. But by the time he can notice this home wrecker has a sign in her kitchen reading "I believe in Santa," it's too late for him to protect himself.
Gordon's portrayal of this blonde climber is sharp satire, equal to the defter moments in Woody Allen. But Glazer doesn't slam Clea morally, the way Allen gave Lucy Punch the works in You Will Meet a Tall Dark Stranger.
Turner himself has the air of an actor who has been around the block—there's expressiveness in his bitterness. During a flashback, where he remembers doing live theater in the park, we can see that he fills the stage well.
Zuniga has to cope with an underwritten part. Stella is oddly pliant about the whole situation. She gets in the face of the female interloper, instead of her cheating husband. The moment Stella catches the two of them in the act is the moment we're certain we're not watching a farce. Rather, we're seeing a different kind of comedy, where the moral center keeps slipping around like a hockey puck.
The New York locations are well-picked and not overused; Glazer and her photographer, Jim Orr, prowl among the cornices and columns of what's left of Manhattan's lofts. Veteran orchestrator Bruce Fowler's entertainingly brash jazz soundtrack starts to push the action a little too noticeably, but that's just at first.
As the story unfolds, though, things calm down, and that's when Seducing Charlie Barker gets more sophisticated. It's a four-handed blame game played by people who all consider themselves evolved, civilized and artistic.
R; 89 min.
Opens Friday, Camera 3, San Jose