Movies
Mambo Combo
A pianist and a beautiful singer make a fateful journey from Cuba to New York
in animated Chico & Rita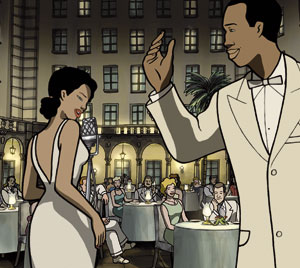 The moldeiness of the 1950s musical plot of Chico & Rita is mitigated a little by stirring, even lavish, animated recreations of mid-20th-century Havana and New York City, as seen from convertible roadsters and motorcycle sidecars.
Chico (voiced by Eman Xor Ona) is a handsome Havana nightclub pianist of the late 1940s. He sees the most beautiful singer ever at an open-air nightclub, singing "Bsame Mucho." As a cartoon character, Rita (Limara Meneses) can be described as a more chemical version of the singer Sade: the demure, green-eyed leopard-woman type.
When the two meet, Rita is with some rich mark; Chico and his pal are squiring a pair of American babes. But they ditch these encumbrances at Havana's posh Hotel National. Chico gets a last-minute gig there. The film's best joke has it that Chico is expected to go straight onstage without rehearsal and pound out Stravinsky's Ebony Concerto along with Woody Herman's band.
The couple has a modern romance: sleep-over first, then a gradually rising set of troubles. Chico's used-to-be lover shows up and gets into a catfight with Rita.
Made for adults, Chico & Rita plays up the erotic side of the affair. The limits of its stylized animation show in the most intimate moments. Depicting lovemaking is the most difficult task an animator can take on; no wonder these scenes are usually euphemized.
After a final quarrel, Chico and Rita head off to hard, cold New York separately. Rita becomes the bird in an Anglo entertainment magnate's gilded cage and is hired by MGM to star in a wide-screen musical.
What we see of her movie is a crimson-tinged number performed under wrought-iron balconies in the American South; it looks a little more like Goldwyn's Porgy and Bess than the MGM musicals of the day.
Unfortunately, there's a bracketing story, as if to give this romance more weight—and to present the frustrations of the Communist Cuba in its decline. We see Chico is alone in old age, drinking by himself and shining the shoes of rich, presumably Canadian, tourists.
Such old-age sequences were done better in the book Mambo Kings Play Songs of Love. That book, with its unhappy ending, was published before the unbelievable real-life curtain call so many of these Cuban musicians got after the Buena Vista Social Club sessions. The way Chico & Rita handles this belated success, in a whirling-newspaper montage, makes the real-life story of comeback look like cheap fiction.
It's a pity. This animated feature should have had it all going on. The soundtrack boasts the music of Bebo Valds. Giants of jazz and mambo turn up in animated form, including Nat King Cole, Charlie Parker, Dizzy Gillespie, Tito Puente and the wild, ill-fated percussionist Chano Pozo.
Chico and Rita drift around in their hard-to-resolve love affair, so Pozo's particular zest for life and sensation hijacks the movie. He may be dangerous, but he's not passive. He's got that diabolical glint you see in pictures of Fats Waller. When Pozo turns up in the New York sequences, suddenly there's something proactive going on—then, of course, all of a sudden Pozo is gone.
Chico & Rita is good-looking, and it might pass muster after a few mojitos. It's a collaboration between Spanish director Fernando Trueba (Belle Epoque) and the well-known cartoonist and designer Javier Mariscal, who created the all-time best Olympic mascots (for Barcelona in 1992). The handsome design keeps you amused, either in the intricate cityscapes or in Chico's nightmare scene that owes a little something to the painter Stuart Davis.
But it's one thing to make a movie about a men-on-top society—and another to make the female lead mostly nebulous. The way Rita's later life is handled is embarrassing. Chico & Rita suggests that a rising star's one small moment of letting the mask drop would end a career utterly for decades.
What happens to this supposedly celebrated and talented singer is something more than you can blame on an underwritten script. It ends up looking like penance Rita is supposed to suffer for her easy ways. And it denies that her art was more important than finding the right man.
94 min.