Movies
Cinequest previews this year's Festival in San Jose
Cinequest announces this year's slate of features, documentaries,
shorts, panels and Mavericks coming to San Jose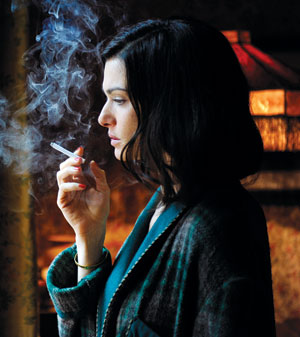 The Cinequest year never ends. Director Halfdan Hussey tells me that the 22nd edition of the film festival, coming to San Jose Feb. 28–March 11, will once again bring a world of cinema, fans and moviemakers downtown.
"Literally, the whole last year was spent working with the team," Hussey says. "The postmortems start in late March, we have a week to wrap it up, and then we're and off and running for the next year. The theme this year is 'Never-Ending Passion,' and it's more true than ever for us."
Cinequest 22's opener and closer certainly couldn't be more different. Opening night showcases an unusual film by Luc Besson. Besson was the most successful exponent of what was called the "cinema du look," making him the Continental version of commercial-makers who turned to feature directing—like Adrian Lyne and the Scott brothers, Tony and Ridley.
Besson's 1997 The Fifth Element merged hardboiled detective drama and the most New Agey of science fiction, with Milla Jovovich as a heaping side dish of Gaultier-flavored cheesecake. Besson got in on the ground floor of butt-kicking babe cinema. Who can number the variations of Besson's much franchised, remade and sometimes utterly ripped off 1990 Nikita (1990)? For example, isn't there some kind of movie about a tattooed vengeful punkette haunting the theaters right now?
Besson is still in that BKB market, as recently as the flop Columbiana, which he produced and directed. Cinequest is presenting a different indomitable, unintimidatable woman in the form of The Lady, a biopic of Nobel laureate Aung Sang Suu Ki, the Burmese dissident imprisoned by the junta there.
Hussey says that Besson is "taking on a tough subject, the terrible situation of a house arrest and the trauma of her imprisonment—and the film finds some sort of transformational energy in the situation."
Not to be confused with Besson's The Big Blue (1988) is Terence Davies' The Deep Blue Sea, which closes this year. It's based on a vintage Terence Rattigan play about infidelity.
The Liverpool-bred Davies will come to San Jose to discuss his work. Those who haven't seen his 1988 memory film Distant Voices, Still Lives could think that it resembles Terrence Malick's The Tree of Life. The similarity of Malick's and Davies' first names could cause confusion, Hussey explains. "But there is [also] a similarity between the two filmmakers in depth of sensibilities."
Hussey is most eager to mention the "Picture the Possibilities" sessions at this year's festival. In his words, they "connect the youth visionaries of tomorrow with the leaders of today. For us what's exciting is the balance between the exciting new emerging talents and the older masters."
"Picture the Possibilities" is a scheme to network between high school moviemakers in five different parts of the world, including Harlem, Beijing, Mexico City, East Palo Alto and South Central L.A.
Hussey recalls, "Years ago, Cinequest co-founder Kathleen Powell, said, 'Let's make this global,' and since then, we've built up a lot of strong partnerships. It's breathtaking to see the capacity, their ability to direct and act and tell stories—and the digital revolution is helping them like never before. We've got 15- and 16-year-olds learning about each other and making spectacular films. This is the part that inspires me the most, the opportunities to connect youth with leaders. These programs make for a very powerful opportunity to youth, who usually have to sit back and listen."
On March 1, Cisco Systems will sponsor a program that lets these young filmmakers in a teleconference with some as yet-unidentified community leaders. On March 4, the festival will present a selection of films that resulted.
From Los Angeles comes a short documentary profile of Homeboy Industries, a successful gang rehab program in Chinatown. "The program combines unconditional love and jobs," Hussey says. "They treat young people who have undergone severe trauma—trauma I personally wouldn't know how to deal with—that caused them to make some decisions that put them in jail."
A high school class in Beijing made the feature film Last Summer, which will show at Cinequest. "It's about how young love can open up opportunities to examine your past and move forward; it's a very mature love story."
A new situation at this year's festival—two different local chefs are receiving the awards that usually go to directors and stars. Nationally known chef Michael Mina (of Arcadia at the San Jose Marriott) will be honored with a Maverick Spirit Award.
Meanwhile, chef Michael Miller of the Silicon Valley Club will receive the emerging Maverick Award. One night of the fest includes a rally of gourmet food trucks as an attempt to get Cinequest out of the theaters and into the sidewalks.
There's a certain harmony in this year's festival caused by the unplanned pairings of two versions of Faust. One is by Alexander Sokurov, director of Russian Ark; the other is the Stanford Theatre–sponsored revival of Murnau's brilliant 1926 silent film version of Goethe's famous tale.
Sports documentaries and films make a serious trend at Cinequest this year.
Kurt Miller's The Movement: One Man Joins an Uprising concerns the triumphs of differently abled skiers, one of them blind. The Kaiser Thrive award presentation Dave is about a coach using basketball to reach a troubled youth; No Look Pass has a Burmese girl involved with that sport; and King Curling is a Norse film about the Olympics' most oft-ridiculed competition.
Perhaps as a reaction to all the sports, one notes among the eight programs of shorts is one titled, pungently, "Fuck Lance Armstrong."
Works by local directors include Dorfman, about the foibles of a San Fernando Valley girl (Sara Rue) who does some loft-sitting in downtown L.A. It co-stars Elliot Gould and directed by Palo Alto's Brad Leong.
Shot in Goa, India, Love, Wrinkle Free is locally produced. Former area filmmaker Kurt Kuenne (Dear Zachary) supplies a fictional feature film titled Shuffle.
And associate director Mike Rabehl and Cinequest's man in Central Europe Charlie Cockey have assembled a huge mix of films. Rabehl notes among his own favorites Old Goats, a comedy about the newly retired and the unlikely Chilean Western Salt.
Cockey notes, "We have a really great documentary program this year," citing Close to Heaven ("pure visual poetry") about the life of a shepherd in the Carpathian mountains; he also endorses Theatre Svboda, a profile of Josef Svoboda, "one of the most important and influential scenic set designers of the 20th century. The content will blow you away."
Feb. 28–March 11; downtown San Jose
www.cinequest.org