Movies
Empire of Silver
After a series of short films, Palo Alto director Christina Yao delivers Empire of Silver, a stirring historical epic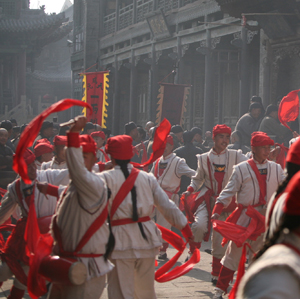 PALO ALTO director Christina Yao's Empire of Silver is a movie of epic scale and intimate subject matter. In China circa 1900, a Rothschild-like banking family, led by a rigid, brutal authoritarian (Tielin Zhang), negotiates political chaos.
Unforeseen events force the third-born "Third Master" (Aaron Kwok) to take over the family business. He's a playboy, first seen painting flowers on the back of a bathing courtesan. We learn the source of this wastrel's heartbreak: the lover (Lao Hei) he can never have.
Yao has been shepherding her film during some two prize-winning years on the festival circuit. Empire of Silver celebrates the kind of bankers marked as old-regime villains in most of the nation's histories. Wasn't this subject too thick for the Chinese government? I ask.
She laughs: "China is the most capitalistic country in the world! The one advice they gave me was to be careful of the sex scene. They said, 'We have 6-year-olds in the audience, because we don't have a rating system.'" A 2-minute sex scene was cut to 10 silent seconds. The American version is intact.
Empire of Silver is based on a three-volume novel by Cheng Yi, written 15 years ago. The director says of the book, "Stylistically, it's very traditional. It's old-school social realism. The most important thing in the novel for us was the research about banking. When I first started on this film, I went to some scholars. They said, 'You should deal with two aspects of these bankers: one is the system the bankers established, and the other is their ethics. If you don't do both, don't even touch the subject matter.'"
Yao had made what she describes as "very short films" before, but nothing like this. She shot in four Chinese provinces and 13 cities. She tried to avoid the woodenness of the usual inexpensive Red Army extras by using local people instead, both local officials and farmers. Yao recalls that a village woman asked one of the producers, "How do I look? I've never worn makeup before."
It seems like an easy economic decision to shoot in the desert, but this, too, was a struggle. The company recruited legions of camels: "They walked two nights and a day for one shoot, worked for one day, and then walked two nights and one day home." The Gobi isn't as pristine as it once was; people drive there to spin out their four-wheelers, just as they do in the Mojave. Replacing the sand over the tire tracks cost $20,000.
"We could only do what we did because of the line producer Li Congxi. He was with the Army studio. He'd done a lot of big productions, and therefore he wasn't afraid. All the other line producers I met said, 'Three transfers, and no more than three.' We did nine transfers, with 200 trucks, searching for the best scenery." Ultimately, Yao put in a lot of mileage on her own car: "I checked my odometer when it was done, and I had enough mileage to have crossed China five times."
Yao came to America from Taiwan in 1973 to study. She earned a doctorate in Asian Theater at Stanford and also trained as an actor at San Francisco's ACT. Her doctoral studies were on love drama: stories of star-crossed romances, written by Chinese scholars and bureaucrats as consolations for their own unhappiness. The love story in Empire of Silver is as important to her as the theme of business ethics: "Businesses worldwide, not just in China, are going off-track. The film deals with relations between men, between men and money, and between man and himself."
Yao doesn't mention between men and women, though they shape the story in their absence. She says: "My own definition of true love is that it transforms you—you're a different person when you come out. If you go in and come out the same way, you probably loved yourself more."
Empire of Silver
Unrated; 112 min.
Opens Friday at AMC Eastridge 14 in San Jose, AMC Cupertino 16 and AMC Mercado 20 in Santa Clara