Movies
Blue Serge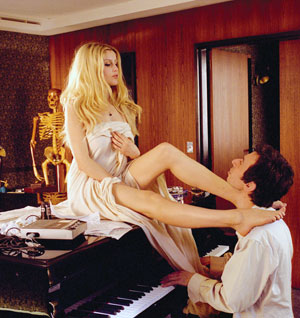 EVERY star-to-be has to conduct themselves like they're a star already, even when they're just a kid hoeing the turnip patch. The one-thing-after-another star biopic proves that a hero is far more interesting in his youth, when no one believes he's a star, than in his famous years, when everyone will trample Grandma to meet him. Such is the case with cartoonist-turned-director Joann Sfar's Gainsbourg: A Heroic Life.
Eric Elmosnino looks a lot like Serge Gainsbourg, the nicotine-stained wraith who groaned his way through decades of French music. Sfar presents this climb with a side of puppetry; they're impressive, stare-worthy puppets with glowing eyes. One representing the genius of Gainsbourg's fame has a huge flamingo beak, Dumbo ears and Nosferatu fingers; the other is a 5-foot-high balloon-shaped spider who emerges from a Nazi poster in Occupied Paris. (He resembles Globey from the Pee-wee Herman show.)
There are tunes, of course. A male quartet does Serge's "Le Poinconneur des Lilas" about a bored-to-the-brink-of-suicide ticket taker. Also memorable is the performance of "Je Bois," a drinking song with cornet and piano. Gradually, the film changes focus; it's less about a beloved musician and more a celebration of a great cocksman. The film asks, How did a man with a face like a relief map of the Pinnacles National Monument end up hanging out with Hitchcock-honey Juliette Greco and Bastille-bait France Gall? And how did he arrange a public musical orgasm with Brigitte Bardot (the schmaltzy "Je t'aime ... moi non plus")? Embodying this harem are actresses who confirm that they aren't making them like Greco, Bardot and Jane Birkin anymore.
Sfar reminds those viewers with short memories how Gainsbourg was bashed for being Jewish. Yet the biopic blahs swamp even the more scandalous moments in Gainsbourg—the proto-punk (but just plain godawful) tune "Nazi Rock" of 1975, as well as his famous outrage: a reggae version of "La Marseillaise" with all the throat-slitting lyrics intact. Fame, fortune, cigs and kids (including the petite Charlotte) are noted. This movie gloms onto, rather than penetrates, the subject. And who can feel sorry for the lucky man? It was not, clearly, a candle in the wind kind of life.
Unrated; 130 min.
Opens Friday, Camera 3, San Jose