Movies
Cultdom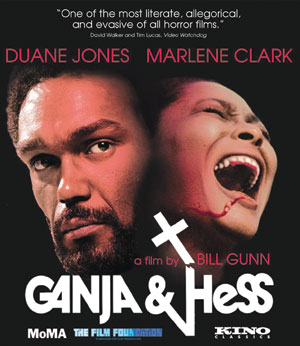 Kino Lorber has released two 1973 horror films (on DVD and Blu-Ray), and though they're from the same year, Peter Newbrook's The Asphyx and Bill Gunn's Ganja & Hess could not be more different. They were both made smack in the middle of one of horror's strangest eras, when gritty independent filmmaking was taking hold in America, and stately, sometimes campy theatrical horror was making a comeback in Britain.
The Asphyx (Redemption Films) is sort of the poor cousin to the fun Amicus horror anthologies that were being made in the United Kingdom at the same time (Tales From the Crypt, Vault of Horror, Asylum, etc.). These usually involved some high-concept supernatural plots and twist endings, and The Asphyx has both. The Asphyx would have been better at that shorter anthology length, but it will entertain lovers of cult British horror with its tale of a scientist (Robert Stephens) who discovers that smudges on photographs taken at the time of death are souls escaping the body. In true mad-hatter form, he attempts to capture this "Asphyx" (the Greek spirit of the dead) and thus achieve immortality.
Much more interesting is director/writer Bill Gunn's Ganja & Hess (Kino Classics), which was made to cash in on the success of Blacula, but has far more in common with the original art film that spawned Blaxploitation, 1971's Sweet Sweetback's Baadasssss Song. Basically, Gunn was hired to make an African American vampire film but decided to make a hallucinogenic meditation on the nature of addiction instead.
Gunn himself plays George, an assistant to anthropologist Hess Green, who has immortality unexpectedly thrust upon him and develops a thirst for blood as a side effect. Gunn puts his politics on the table early when George says of Hess, "He's an addict. He's not a criminal, he's a victim. He's addicted to blood."
It helps that Hess is played by the endlessly fascinating Duane Jones, who starred in Night of the Living Dead. His performance here is gripping, as is that of Marlene Clark as Ganja, with whom Hess becomes involved. The film will strike many as pretentious, with its airy, psychedelic feel and almost documentarian style in parts, but it deserves to be recognized as a cult classic.
Though Ganja & Hess may be a vampire story, it's a Frankenstein film, in the sense that the complete work had to be cobbled together for this release from the best available sources, after the original distributor hacked almost a third of its running time away. The restoration was lovingly done, but of course some sections look better than others. In general, however, it looks no doubt far better now than it did in the theaters its original run, and a documentary in the extras does a fine job of laying out its place in indie-film history.