Movies
Hitchcock Retrospective
A Stanford Theatre retrospective reveals the many treasures in the films of Alfred Hitchcock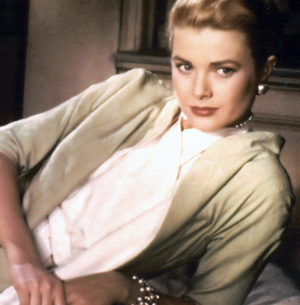 The mystery of Alfred Hitchcock was recently explored by a pair of biopics that fell somewhere between the amusing and the libelous. Those who swear that the cinema of the last century refuses to die were glad to have it remembered under any circumstances.
Still, Hitchcock remains completely relevant—a relevance that doesn't depend on Hitchcock or The Girl, or the Bates Motel TV show or even the Rifftrax version of Birdemic!, an infamous South Bay-made travesty of The Birds.
Always timely, always welcome, an 18-film Hitchcock retrospective at the Stanford Theatre explains the director's appeal. The series includes gleaming nocturnal romances, still-ahead-of-their-time shockers and intricately engineered, paranoid spy thrillers.
The man himself defies augury. Over the stretch of 40 years of interviews, Hitchcock flogged his aphorisms. "The majority of the public wants to see the same old stories told in new ways," he told Ian Cameron in 1963. He said this shortly before he did a variation of his 1935 feature The 39 Steps as Torn Curtain in 1966.
He was interviewed ceaselessly—how many times did he have to tell, at length, the story of what a MacGuffin was? And yet Hitchcock was a presidential-level expert at deflecting troubling questions, all in the name of maintaining the sleek persona.
In Alfred Hitchcock Interviews, edited by Sidney Gottlieb, Hitchcock reiterates that Psycho was "a fun picture." This, ultimately, may prove to be the last word on the film.
French director Claude Chabrol, once a film critic, desperately tried "to find the figure in Hitchcock's carpet"—i.e., the weave central to all the filmmaker's patterns. Being a fellow Catholic (Hitchcock even got an audience with the pope once), Chabrol felt the need to hurl at Hitch the demanding question, "Do you believe in the devil?" He didn't get his answer as such.
I suspect Hitchcock was one of a strain of artistic British Catholics who were diabolical, who had a sense of elegant spiritual doom, who felt damnation was something a soul wore like a beautifully tailored black velvet suit—thus James Mason's debonair, damned Vandamm in North by Northwest.
As for his obsessions, journalist Oriana Fallaci, a true adder of an interviewer, delved deep into Hitchcock's sex life. It was blameless, Hitchcock protested; he'd been a virgin until marriage and had never even fantasized about another woman since. When it came down to it, he preferred food to sex anyway. Even while buttering Hitch up with a matrimonial offer, Fallaci concluded that the filmmaker was "the most wicked, cruel man I have ever met." And Fallaci once interviewed Henry Kissinger.
Two or five of my all-time favorite films will screen in this retrospective, including the diabolical Strangers on a Train (Feb. 28-March 3), North by Northwest and Notorious (both March 28-31). Call something a classic, and it intimidates the uninitiated. Even among film students, surprisingly few might have seen Psycho (April 4-7) or Vertigo (March 21-24), recently acclaimed by the Sight & Sound poll as the best film of all time. They may be allergic to the black-and-white cinematography of the former or estranged by the orangish makeup on Jimmy Stewart in the latter.
I hope they'll watch anyway. I hope they'll see the combination of meticulousness and dark passions conjured up by the great entertainer. And I hope they'll muse over the possibilities of taking commercial work and using it to express hints of personal pain, to tell of doubt in a happy ending. Note that Rear Window ends where Vertigo begins.
New films demonstrate how much they owe to Hitchcock, whether in the megathriller A Good Day to Die Hard (a great-grandson of The Man Who Knew Too Much) or the duplicity in Side Effects. Today's runaway bestseller 50 Shades of Grey was market-tested years ago by the success of the harsh-man, punished-woman dynamic in Notorious (March 28-31) and Rebecca (Feb. 21-24).
Even the most minor films on this lineup, such as Young and Innocent, have some kind of technical wisdom that will reveal itself on repeat viewings: certainly, here will be some new hidden key to the mystery and the rapture of watching moving images.
HITCHCOCK RETROSPECTIVE
Runs through April 7