Movies
Clockwork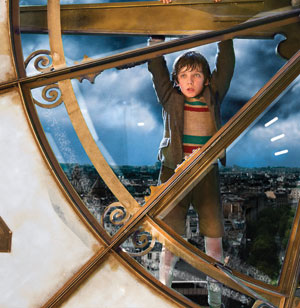 IT MAY BE Tim Burton, and not Martin Scorsese, who is the most trendsetting filmmaker of the last 20 years. For Hugo, Scorsese worked with Burton scriptwriter John Logan, Sweeney Todd production designer Dante Ferretti and a few of Burton's past and future stars. Scorsese's new film seems like natural material for Burton, even unto the animated scenes of meshing gears and machinery zoomed through in a particularly exciting 3-D.
And yet there's something bewitchingly different to Hugo. Scorsese's gamble is that he can infect children with his own raging case of cinephilia. It just might work. In a beaux-arts composite of the Quai d'Orsay and Gare St. Lazare train stations in Paris, an orphan lives in the garret, tending the many clocks there. In his spare time, Hugo (Asa Butterfield) is repairing a robotlike clockwork automaton with a pensive face; it's the only inheritance he has from his real father.
Down below, the crowded station is patrolled by a comically fierce gendarme (Sasha Baron Cohen; when a fugitive escapes him, he shouts, "Malediction!"). Another adversary for Hugo is a bearded elder man (Ben Kingsley), who tends a kiosk of toys and novelties. The old man's daughter is the bright young girl Isabelle—it's Chloe Grace Moretz, continuing her meteoric rise while looking so much like Helena Bonham Carter as to make more Burton comparisons inescapable. Isabelle holds (a little too literally) the key to the mystery.
Not everything in Hugo runs like, eh, clockwork, and yet it's an absolutely captivating film. Scorsese's use of 3-D (the film must be seen in that format) enhances the work of one of the pioneers of moviemaking, who may not be familiar to younger viewers: the French maestro of a century ago who invented cinematic special effects. Hugo shifts from a boy's search for family to the family one finds in the company of film watchers. And Scorsese's 3-D brings the power back of this mystery director's quaint and thrilling work.
The CGI expansion of Hugo's domain makes for a sumptuous set that you'd feel you could watch for the length of an entire film. To paraphrase Orson Welles on the set of Citizen Kane, this is the best train station a boy could want.
Hugo
PG; 127 min.