Movies
I Wish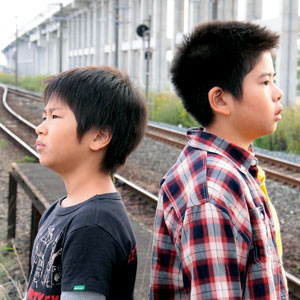 Kirokazu Koreeda, director of Nobody Knows, is likely the best kid-wrangler alive. He returns to the familiar terrain with I Wish. A bohemian family has been split down the middle by divorce. The diffident, passive mom takes the older son, Koichi (Koki Maeda) to go live with his grandparents in the subtropical south in Kagoshima, under an active volcano.
Oshiro Maeda (Koki's real-life sibling) plays the bushy-haired younger brother Ryunosuke, who lives with his negligent, moderately successful rock-musician father many miles away. The brothers decide to plot a reunion. With a childish certainty in magic, they believe that they can wish their family back together. All it will take is meeting on the spot where two bullet trains pass, when they travel down on their opposite routes. Koreeda fills in some delicate touches about the way Koichi's half-employed grandfather (the grave yet droll Isao Hashizume) is pressed for money by the return of his relatives. Grandfather decides to make some cash by reviving a traditional cake called a "karukan"; it's gone out of fashion because it's not as sweet as today's confections. The grandfather's friends advise him to dye the cakes pink to capitalize on the cherry-blossom theme of the bullet train. The grandfather refuses: "As a craftsman there are some things I cannot compromise upon."
The "mellow," unsweet flavor of the cakes seems to be what Koreeda seeks in cinematic form. At times, I Wish plays like a Charles Schulz comic. Early on, a teacher takes issue with his student's paper, since the boy has answered the question of what he wants to be when he grows up: "an insect."
Since the director lets the children lead the way in his movie, I Wish seems to be running on children's time. The development of the kids' stories means many discursions, so that the children can explore their world. Thus I Wish is as gently humorous as it is overlong. This is a leisurely film that stops to remark at a gang of kids' surprise at an abandoned field overgrown with cosmos. And it is a film that pauses to note the humorous gravity of old loafers lounging over their Sapporos on a warm night.
PG; 128 min.