Movies
The Ides of March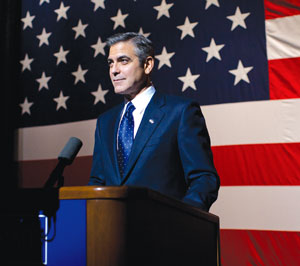 A STIFF adaptation of the play Farragut North, by Beau Willimon, The Ides of March minces some questions of loyalty and politician worship. Can a political activist find a safe ground between foolish innocence and cynicism? Director/star George Clooney plays Mike Morris, a Gulf War veteran and Democratic governor of Pennsylvania running in a tough Ohio primary. If he wins, he seems destined to triumph against a scattered opposition. ("They [the Republicans] can't find a nominee who isn't a world-class fuckup. They look like Democrats.")
Ryan Gosling plays Stephen Myers, the young but longtime strategist who adores this candidate. His boss is the more pragmatic Paul Zara (Philip Seymour Hoffman). The younger Myers is supposedly so good at his job that he has drawn the attention of Zara's opposite number, Tom Duffy (Paul Giamatti), the campaign director of a vaguely drawn Democrat rival. To see Hoffman and Giamatti glowering at each other over donuts is an indication of the kind of movie being advertised—as opposed to the actual way this low-temperature drama of idealism simmers.
As Molly, an intern who happens to be the daughter of the DNC chair, Evan Rachel Woods is first satisfyingly forward and tough, and then oddly melodramatic. The film's plot hangs on the problem of this girl not being able to raise $900 in an emergency. But given the way Molly looks, she probably spends that kind of money on a Saturday night.
Clooney rations himself onscreen (justifiable, maybe, to convey the mystique of a man who might be president). Thus Ides of March doesn't start to get exciting until far too deep in the game, when we get the late-night confrontation we've been promised between Myers' hero worship and the ruthlessness of the candidate.
Clooney's visuals are essentially televisionistic, though he has some worthwhile ideas to darken the film. A rally at Xavier University means Myers is alone, prowling a half-lit basketball court with the sinister letter X in it. The cityscapes of Cincinnati have some resonance—nothing says political angst like Hoffman standing on a slushy Ohio street in a duffle coat, smoking a cig. And politics here is as unappetizing a business to view as sausage making in Porkopolis.
The Ides of March
R; 101 min.