Movies
The Gods Must Be Crazy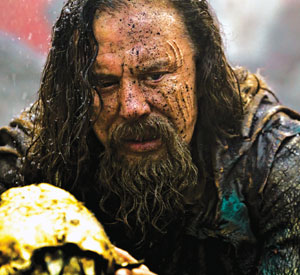 THE GODLESS TYRANT Hyperion (Mickey Rourke) seeks the legendary Epirus bow that destroys everything in its path. Theseus (Henry Cavill), a fatherless peasant, survives Hyperion's latest massacre and frees the imprisoned Sybil Phaedra (Freida Pinto). The gods watch, but they are forbidden by Zeus (Luke Evans) himself to intervene.
There's considerable beauty in Immortals. Once again, Tarsem Singh (The Fall) distills the art of the world into one film with costumes by designer Eiko Ishioka. But it's not a sensual film in the sexual sense. Where it gets sensual is in people puncturing, slitting or cleaving each other. Pulsing blobs of blood hover, making abstract patterns in the air.
The crowd, uneasy with sex, tittered galore at the bare butt of Pinto's body double. They whinnied at the impossibly sculpted physiques of the gods, and at their metal headdresses. (There's a line about funny hats in this movie—someone got nervous.) Rourke's crab-claw helmet was too much—with a skull like Rourke's, who needs a helmet? He hardly needs makeup, either; a close-up of Rourke savaging a pomegranate with his mouth is nasty enough.
Singh was at WonderCon in February telling the crowd he'd wanted Caravaggio and the producers had wanted Zack Snyder. Seemingly, Snyder won and the Baroque lost. The script by Charlie and Vlas Parlapanides is an example of what's meant by the expression "You can write these lines, but I can't act them." The words kick you out every time the images try to draw you in: the towering heights of the cliffs, the dust-storm lighting or the man-bull in the marble labyrinth, wearing a barbed wire mask and gloves.
Minotaurs are tough customers. This one is played by the gigantic Robert Maillet. It's frustrating that Immortals can't build this clash up—to make the minotaur seem like an ultimate weapon. This mano-a-mano contest seems like an incident, a sideshow before another giant CGI anthill war of hundreds of thousands of soldiers.
And the real climax fizzles. We know from the prophecy that the Titans will be freed. Sadly, the creatures look as threatening as the boys of the chorus. They are ash-skinned extras seemingly taken from Peter Brook's film The Mahabharata. Like many visionary filmmakers, Singh uses his actors essentially as models. Even the gods look like models. They stand around with their hands tied, moping, and they lash out at each other. But they are immortal; that's why they're back for this film's dismaying "Can I has sequel?" ending.
R; 110 min.