Movies
Inferno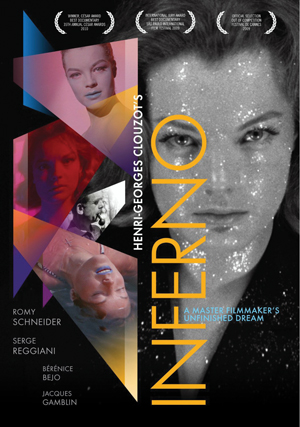 THE PROJECT was called Hell. That's exactly where the famed French director Henri-Georges Clouzot (The Wages of Fear and Diabolique) sent himself. Henri-Georges Clouzot's Inferno (Flicker Alley) tries to reconstruct L'Infer, the film that nearly killed the director. Some 185 cans of not-yet-dubbed film remain from the 1964 feature; at peak production, Clouzot had three separate units shooting, with no end in sight.
In the lead: Romy Schneider, star known for her biopic about the ill-fated Empress Elizabeth. (Schneider's stony visage suggests that she was of Austrian/Olmec heritage.). She plays a fresh, perhaps too-innocent wife of a hotel keeper at a stony lakeside resort in the south of France. She may be sporting with a mustachioed creep, as well as with a lascivious beautician (the petite, red-hot Dany Carrel). Her husband (Serge Reggiani) spies on her, contorting himself with suspicion. He nearly kills her and himself out of jealousy.
The premise could have worked. We know this because Claude Chabrol made a lethally efficient adaptation of the script in the 1990s. The documentary/reconstruction describes the crazed circumstances of the '64 filmmaking: Clouzot was sleepless, and routinely woke up the crew and cast at 2am.
Staged script readings try to re-create the film's bigger moments; it's a device that only works for instructional purposes. But the ruins of this project are often tantalizing, especially in the Blu-Ray version included in the two-disc set. It's material begging to be sampled by video DJs. Take the scenes (shot by Claude Renoir) in which the wife goes off to the village while her husband tails her; she sashays in a long, striped sheath and poses against perpendicular blinds closed against the drastic sun. She's an Op Art siren. There's not a trace of farce in these shots. The visual luridness is worthy of Godard's Contempt.
What we see suggests that the movie was threatening to become a long dream sequence or a documentary on fun-house mirrors; oddest of all are moments of erotica with a Whammo Slinky. Lured into the vertigo of effects and exotic lenses, Hitchcock's only real rival stares at faces bathed in spinning, throbbing color—threatening to become the deluxe version of Bond title-designer Maurice Binder.
Henri-Georges Clouzot's Inferno
Flicker Alley
$39.95