Movies
The Iron Lady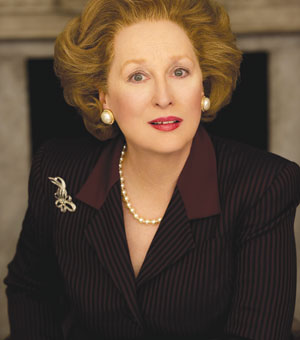 THE NEW Meryl Streep film The Iron Lady fails even as a handkerchief-soaker for an audience of wonks from the Hoover Institute. Banking on historical amnesia, The Iron Lady transcends its surpassing political naivet– by trying to sleaze its way into Margaret Thatcher's personal life.
The film presents Thatcher in her senility as being haunted by the prankish specter of her late husband, Denis (Jim Broadbent). Just what we needed: a Tory version of Topper. In the fullness of time, you do feel some compassion for Thatcher, thanks to the tastelessly invasive way director Phyllida Lloyd (Mamma Mia!) presents the doddering old lady.
Parts of The Iron Lady are just what they look like from the previews: a grateful celebration of a politician who really knew how to spread misery around. Abi Morgan's script trumpets the feminism of Thatcher's rise from cloth-coat suburbia to #10 Downing Street, where she tamed the unions and conducted the triumphant war in the South Atlantic.
The Falklands War between the U.K. and Argentina, characterized by Jorge Luis Borges as "two bald men fighting over a comb," is portrayed in thundering terms; the film makes Thatcher look like Elizabeth I conquering the Spanish Armada. Americans can get a little irritated during the scene where Thatcher has the last word to an American ambassador trying to stave off war. What is the attack on the Falklands if not England's Pearl Harbor, Thatcher asks—a political analogy in need of a challenge.
The Iron Lady reverses the angle on the way Thatcher worked, making her a besieged woman encircled by furious crowds and mad bombers. Her Labor opponents shake their heads at her, or else have to pull back ruefully, amused at being bested by her wit.
This unusually meretricious biopic has been called worth seeing for Streep. It's a tribute to her that the movie isn't worse. She coasts on her gift for accents and mimicry, but this is hardly an example of a peerless actress playing a really once in a lifetime part. The Iron Lady's bottom-line offensiveness goes beyond the strange-bedfellows situation of its making. Here's a noted lesbian director honoring the politician who helped bring about the homophobic Section 28 amendment.
PG-13; 105 min.