Movies
Love Crime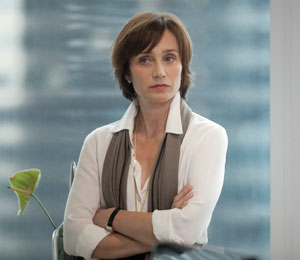 FRENCH DIRECTOR Alain Corneau's last film (he died a year ago), Love Crime, starts with the same kind of sturdy dramaturgy that begins lesbian erotica. A chic but severe Parisian boss, Christine (Kristin Scott Thomas), is doing some after-hours work with her young assistant Isabelle (Ludivine Sagnier), whose prettiness is disguised with gawky glasses and mussy hair. The older woman, full of compliments about how nice Isabelle smells, seems to be making her move just as a man enters the room, and all is restored to decorum for the moment.
Patronizers are bad, but Christine turns out to be something just as bad: a severe matronizer. By Christine's definition, being a mentor means even sharing her lipstick with her assistant—"Don't I get a kiss?" she asks, when Isabelle is leaving for the day. Christine enjoys watching Isabelle squirm. The older woman spies on her, steals credit for her work and sets the younger lady up for a tryst with a man of Christine's choosing.
Corneau keeps the action quite claustrophobic; the changing of interior scenes, from offices to parking garages, is bolstered with sound effects. We don't see Cairo during a business trip, but we hear a muezzin offscreen; we don't see the rows of a cellblock but hear an off-screen prisoner screaming. Love Crime is economic in scale but not in pace; Corneau stresses the believability by working through the steps of Isabelle's elaborate and thorough revenge on Christine.
Scott Thomas can do this wicked-witch part with ease; her Gothic handsomeness is made for parts of unmotivated nastiness. It's probably Sagnier's first time really carrying a film. She is maybe the most delicious French export since Bardot. She plays Isabelle as someone who lives for her work. Her company is some kind of Archer Daniels Midland–type multinational, with gauche, gesticulating Americans Skyping in. Good at her job, Isabelle is socially backward, so pliant that all you have to do is flick a thumb against her plump lower lip to seduce her completely.
Sagnier handles the part deftly on both her breakdown and her rebuild. She's so good that you stop thinking about her beauty. Corneau zeroes in on the center of that beauty, which is its imperfection: the asymmetrical eyelids. The bedroom laziness in the right one is emphasized by a twitch, brought on by the stress of Christine's polished sadism.
Unrated; 104 min.