Movies
Martha Marcy May Marlene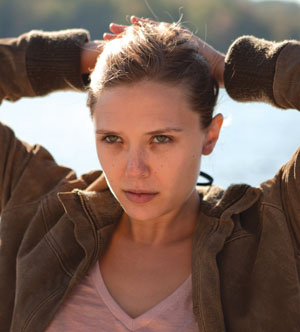 THE OMINOUS Martha Marcy May Marlene has a damnable title, but it's worth learning. This is a very tight thriller, quivering with emotional violence and suspense. Director Sean Durkin shot in rural upstate New York locations, with a lot of natural light. The film has a slow dreamy tone, but it's deceptively muzzy-looking. MMMM is actually a close-in study of something that most people flinch from thinking about: what's it like to be under the skin of the victim of a cult.
The runaway dropout Martha (Elizabeth Olsen) escapes after two years with an unnamed family in upstate New York. She's plagued with memories of what was done to her and what she did to others. Martha's estranged sister, Lucy (Sarah Paulson), puts the penniless girl up in her lakeside vacation house. The vacation turns dismal. Severely traumatized and yet unable to put her ordeal in words, Martha thwarts her sister's attempts to connect.
What happened is cloudy and half-remembered. It wasn't all Gothic; much of Martha's two years was spent as an underfed female drone sleeping in a pile in a girl's room, cooking, waiting patiently for the men to eat. When new arrivals show up, Martha (now renamed Marcy May) is there to help break them in—to help make them members of the family.
The inspired and frightening John Hawkes, who plays the cult leader Patrick, looks startlingly like Charles Manson as an older jailbird. He considers himself a folk musician, just as Charlie did. It's a turning point in this movie when he makes everyone listen to his little recital, a song about Martha, the new girl in the family: "You're just a picture on the wall." What uncertain young girl could resist being summed up as shallow and decorative?
Olsen (younger sister of Ashley and Mary-Kate) gives us a remarkable portrait of someone split in pieces. And Durkin is smart about how such charlatans as Patrick thrive—how the contradictions that look like hypocrisies, how the small stresses create fissures large enough for a spider to get in.
R; 120 min.
Opens Friday, Cine Arts Palo Alto Square and Santana Row