Movies
City Sounds
Fritz Lang's silent Metropolis comes alive at Montalvo thanks to Club Foot Orchestra's score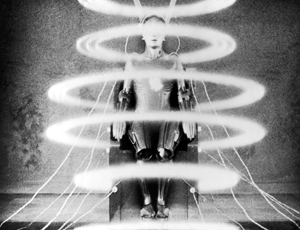 A NIGHTMARE of a mechanized future, an unforgettable premonition of class war: Fritz Lang's Metropolis (1927) has only become more imperative since the rise of the global economy. No film fan of the 1920s would have predicted that this once slashed and dismissed film would be the one silent film people of 2011 would have seen, if they've only seen one.
A stunning cinematic artifact, the film really requires a soundtrack to be fully appreciated, and Metropolis has drawn dozens of composers, but Richard Marriott and the Club Foot Orchestra are at the very top of the list of those who can balance both the sugary and the terrifying sides of this science-fiction epic.
The nine-piece Club Foot Orchestra, including longtime members percussionist Gino Robair and ace clarinetist Beth Custer, will perform its score on May 20 at Montalvo Arts Center in Saratoga.
An artist-in-residence through May, Marriott has visited Montalvo before. In 1998, he was there performing an opera of his own composition: "We had a 40-voice choir, the Del Sol String Quartet, and four soloists—including my daughter, Isabella, an opera singer. I was listening to a tape of the performance, and I could hear this weird moaning in the background. ... It turned out to be the local coyotes singing along."
This screening won't be of the recently restored, extra-long version of Metropolis, partially because the show has to be over by 10pm, due to sound restrictions in the neighborhood. Marriott says he is planning a completely new soundtrack for that new version. (The history of Metropolis includes many, many versions of greatly varying lengths.)
"We are doing the version we're always doing," Marriott says, "but we are much better musicians these days. A lot of stuff in the score has just been kind of straightened out, made richer and fuller."
It's getting to be 25 years since the Club Foot Orchestra did its first score for a silent film, The Cabinet of Dr. Caligari. As a quintet version, Club Foot has lately been performing silent film soundtracks in Los Angeles.
"We did three scores in three weeks," Marriott says. "Keaton's Steamboat Bill, Jr.; The Golem, co-written with Sheldon Brown, a phenomenal player; and the last silent film by Cecil B. DeMille, The Godless Girl. Very campy, that one, but it's kind of great."
Marriott notes how the band has come together as an group: "Caligari was all me, Nosferatu was me and a little bit by Robair; Metropolis is about 60 percent me with important points by other composers. By the time of Sherlock, Jr., just about everyone wrote music." The score for Keaton's Sherlock, Jr. was one of the group's most eclectic. A Buster Keaton film is episodic, which is why it's sometimes hard to describe what goes on except as a series of incidents. Composing for such shifts had to be tougher.
After initial controversy, the score has taken on with the public. "We had our score of Sherlock, Jr. put out on Kino for the Blu-Ray version, along with the default soundtrack by the Mont Alto Orchestra," Marriott says.
"We tried to keep it as period as possible, with music that could have existed at the time: polka, tango, American Indian music. People were complaining, 'What's that free jazz doing there?' Let's see, I was putting bits of 'Black and Tan Fantasy' in it, which was written in 1927. It wasn't the Ellington from the mid-1930s, because that had a different kind of swing, and it didn't match what Keaton was doing.
"Writing music for a silent film isn't just a matter of slapping on period music. I was talking to the head of the Goethe Institute about that. He said, 'What it's going to be like if they ever completely restore Metropolis and accompany it with a 90-piece orchestra playing the contemporary score written for it?'"
Marriot suggests, "It might be second-rate, warmed-over Mahler. In a lot of film of the silent era, you'll see visual aspects that are so contemporary. The visual sense was so far in front of what the people of the time regarded as acceptable music. What you need is something that brings out the totality of the film, and then everything is illuminated."
Metropolis with live score by Club Foot Orchestra
Friday, 8pm; $20
Garden Theatre, Montalvo Arts Center, Saratoga
408.961.5858