Movies
Portugal. The Movie
Raoul Ruiz's final film, Mysteries of Lisbon, is a masterpiece of historical time travel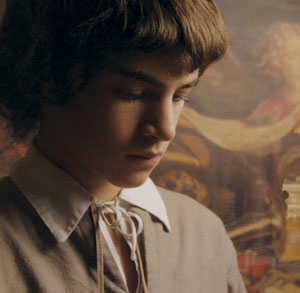 IT TURNS OUT that Raoul Ruiz, who died Aug. 19, wasn't actually a pseudonym for a collective of filmmakers. The Chilean/Parisian director wrought more than 100 movies, beginning with a 1968 adaptation of G. Cabrera Infante's Tres Tristes Tigres.
His body of work included a memorable attempt to encompass the last volume of Proust's Remembrance of Things Past, 1999's Time Regained. His last film, Mysteries of Lisbon is based on a still-untranslated novel from 1854 by Camilo Castelo Branco—it's David Copperfield as a Portuguese fever dream. When Ruiz films children playing blind-man's buff outside a window, he's giving you fair warning. See this, and you, too, will be spun and blindfolded.
Even approached from a linear perspective, Portuguese history is dizzying. Mysteries of Lisbon takes place from about the 1770s to the 1840s. It begins around 1820, during the liberal rebellion that gave that nation its constitution.
Pedro (Joao Luis Arrais) is a young, frail bookworm. He's being raised in a boy's school by a kindly padre, Father Dinis (Adriano Luz). Having the room to move, Ruiz sojourns in all directions, both chronological and geographical. The concealed Pedro is the son of a noblewoman (Maria Joao Bastos), imprisoned by her brute of a husband.
The second half (the film clocks in at 4-1/2 hours) traces the lineage of Father Dinis. He, too, is of aristocratic blood. We encounter the Courts of Slander, which are attended to by Registrars of the Third Order. We meet a hired ruffian nicknamed the "Knife-Eater" (Ricardo Pereira), who steels himself for an act of infanticide with the thought that "at that age, they have no age at all."
We learn of a noblewoman (Clotilde Hesme) whose lust for revenge conceals a secret. And we hear a nobleman's last testament, ending with the cry "May the world curse the memory of the Count of Santa Barbara!"
The characters come back disguised, wealthy, bewigged and seeking revenge. Some traces tell—a scarred ruffian becomes a wealthy sea captain, but he still has a criminal's sense of humor that makes him park a statue of a lion next to a cage filled with parakeets.
Those looking for towering payoffs will go home empty-handed. Given the open ending, recall that Ruiz once directed a film of Calderon's La Vida es Sueno (Life Is a Dream). Ruiz's model is that favorite Latin American storytelling form: the serial, labyrinthine and unresolvable.
Made for TV, Mysteries of Lisbon is enhanced by a theater viewing. The handsome Genesis digital camerawork sweeps past Ruiz's compositions in leisurely, crescent-shaped pans. On a big screen, the details are clearer: the outlandish religious frescos, the satins, the sinister clock that reveals a glowing skull inside as a memento mori.
One of Ruiz's images silenced my inner detail seeker: the sight of a portrait of Napoleon, kept in a character's secret treasure room (along with his mother's own skull). For a time, Napoleon had Portugal in his net. And one aspect of the emperor's career was the transformation of low-grade wastrels into sceptered, ermine-wrapped rulers—and back again, with names and titles changed.
The only gravity holding this era together was the unchanging, ever-absurd demands of honor. That, and the Church: a sanctuary for players who lost everything. The lower classes watch it all and consider the gamesmanship madness. ("The finer they are, the more they are like goats," says the Knife-Eater.)
Being an old man, Ruiz had little interest in physical conflict. During one fight, he parks the camera in a carriage next to a man trying not to notice a street squabble. At a ruinous, pointless duel, Ruiz watches the combatants from about a block away. It's the journey through this azulejos-tiled maze that fascinates him—the play of delusions and the deluders—rather than what actually happens in the bedroom or the field of honor.
Rarely will four and a half hours of cinema pass so quickly. Watching Mysteries of Lisbon stirred the same feeling as watching Children of Paradise: "Yes, it is long, but this movie could probably be longer, and it wouldn't hurt."
Unrated; 272 min.
Opens Friday, Camera 3, San Jose