Movies
Let's Get Stoned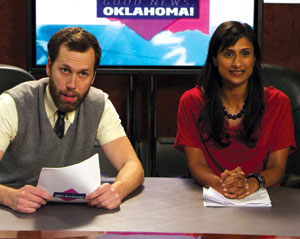 THE Poppy Jasper Short Film Fest is "the festival that really rocks": the egregious pun refers to the semiprecious stone only found in the Morgan Hill area. A certain rockiness also sums up the annual festival's fortunes. It started with what Jay Jaso, one of the Poppy Jasper's co-founders, called the "dumb, crazy, wild idea" of staging such a festival. Before the submissions started arriving in earnest, the first year, in 2004, looked like a drought: "Two months went by, and we had not received one film," said Jaso.
Today, this local gem in the film-festival scene includes a triple emphasis on youth filmmaking, the power of the short film and the attendance of serious industry figures. One year's guest was Oscar-winning designer and artist John Bruno. "He stayed for the entire festival and was available for anyone who wanted to talk to him," Jaso said.
This year, the Oct. 15 keynote speaker is cinematographer Vance Piper, who worked on Mrs. Doubtfire, The Hunt for Red October and Avatar. This doesn't count the number of filmmakers from eight different countries competing in this pleasant small town to the south of San Jose. A panel of judges selected the offerings this year, and a partnership with Adobe has a focus on disadvantaged kids telling their stories through film with prizes and scholarships for the contenders. One prize is an award named in honor of Apple pioneer Steve Wozniak.
Among the films is the 36-minute documentary Kevin, by exponent of mumblecore Jay Duplass (Cyrus). It tells of the highs and lows of an Austin musician, a guitarist who seems to be in harmony with the great Arthur Lee of the band Love. Reflecting current unrest is Peninsula filmmaker Pam Walton's Raging Grannies.
Good News, Oklahoma concerns a happy-talk news show that causes protests. Leap Before You Look is about filmmaker Stephane Goldsand's hesitation about becoming a father. Cerise is John Trigonis' dramedy about a still-haunted loser who once failed a spelling bee decades before. Jeremy Kruse's mockumentary Fluffenhausen: The Comeback of a Pop Culture Icon tells of the rise, fall and resurrection of a Kraftwerk-style band. Enter the Beard is Scott Ballard and Matt Lawrence's documentary about the annual beard-growing championships in Anchorage.
The Poppy Jasper Short Film Fest
Oct. 14–16, CineLux Theaters, Morgan Hill
See www.PoppyJasperFilmFest.org for details