Movies
Thinking Differently
Cinequest hosts world premiere of 'The Real Revolutionaries,' a documentary about the Fairchild Eight and the birth o high tech in Silicon Valley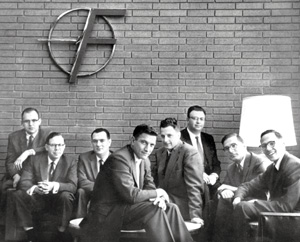 THE STORY of the Fairchild Eight is an example of the expression "history so recent that it's been forgotten." On Feb. 25 and 27, Cinequest 20 will screen the world premiere of The Real Revolutionaries, a documentary about the rift between William Shockley and the so-called "Traitorous Eight": Julius Blank, Victor Grinich, Jean Hoerni, Eugene Kleiner, Jay Last, Gordon Moore, Robert Noyce and Sheldon Roberts.
The conflict shaped the valley. Shockley, who lived in Palo Alto for the greater part of his life, was the genius who got the Nobel Prize as one of the inventors of the transistor; his reputation attracted the best physicists in the country, but his high-handed methods crushed the individuality of eight of his workers who struck out on their own in 1957—the first shot in what was to be a decades-long salvo between company men and individualists:
The film is the newest offering by Diamond Docs, the company of a trio of filmmakers whose motto is "Find + Cut + Polish." Diamond Docs is helping to change a once-moribund style of film—the droning documentary—into something more immediate and popular, like rock music.
Morgan Sackett, a longtime producer for TV's Seinfeld, tends Diamond Doc's business end. The Real Revolutionaries' director, Paul Crowder, even made the lateral transition from rock musician to documentary filmmaker; Crowder was the drummer in the successful Belfast band the Adventures before he became the editor on the greatest film about surfing, Riding Giants.
Mark Monroe, the third member of Diamond Docs, wrote The Real Revolutionaries, as well as the Oscar-nominated The Cove and The Tillman Story, the upcoming documentary on Pat Tillman. Via phone to his home in Los Angeles, I asked Monroe what exactly a documentary writer did. One has a mental picture, a bad one, of how documentaries are made: a documentary-maker goes out with a camera, films what happens and there's your documentary. Monroe explains that what he does depends on cases.
"Paul Crowder, Morgan Sackett and I founded Diamond Docs to make movies from scratch," he says. "We soon found, in this economy, that wasn't as easy as we thought. But we've made our own films. And we've also helped get several highly acclaimed documentaries by other people across the finish line.
"What a writer of documentaries does is to structure the world of the film. A writer for a fictional film plays God. A lot of documentaries, by contrast, start out wanting to tell a specific story, but then that story changes as you film it. And some people are reluctant to let the film tell you where it wants to go. Even in a film without a lot of narration, the writer can give a film shape."
Monroe is a second-generation journalist. His father had a career with the Associated Press, and then downshifted to run a small-town newspaper in Idabel, Okla. Monroe went to journalism school in Norman. There he learned broadcast journalism, a craft Monroe practiced at CNN.
"I slowly discovered I needed a more creative outlet," Monroe says. After reading his fellow Oklahoman Leslie Berlin's book The Man Behind the Microchip: Robert Noyce and the Invention of Silicon Valley, Monroe was taken with the idea of making a film version of the story of the valley in the early days.
Monroe came to the Silicon Valley "a half-dozen times" to do interviews, but he wrote most of the film in an L.A. cafe. "I met with Ann Bowers, Noyce's widow. She was down to earth and great; she said, 'Let's give this a shot.' We had support within the industry and we got it off the ground."
Wait, let's get back to the "hard to illustrate" part. How does one enliven a documentary in which most of the images have to be photos of shirt-sleeved engineers diddling a slide rule?
"We've taken great liberties," Monroe notes. "If you look at our previous work, you know we like entertaining—we like music, and we like pictures. Not having a lot of footage or pictures to illustrate, we worked with a first-rate graphic artist to illustrate the guys and the mentality they fostered—this, more than the actual hardware."
It has been said that the modern documentary—the free-floating, entertaining kind—is predicated on having a villain and a hero. Monroe demurs. "I wouldn't say that. William Shockley is portrayed in an accurate historical context. This is a guy who helped invent a revolutionary technology, and he's not remembered for that invention. Instead, he's remembered for his views on eugenics, on IQs and the gap between races.
"The lesson of the film is that Noyce and his group of eight believed that if you had the right nurturing environment you'd get the best ideas. Shockley's influence mattered. He influenced Noyce and the Fairchild Eight to be different than he, Shockley, was. And the Fairchild group went on to influence the Silicon Valley: a place where if you take a risk, you're admired whether or not you succeed."
Trying to get corporations to talk to the camera can be a like crossing a minefield, but Monroe said this went smoothly: "The ones who were supportive were really helpful. Those who weren't, we only spoke to them once."
Beyond the Cove
At the same time that Diamond Docs is readying The Real Revolutionaries, Monroe's other film of local interest is being bid upon by distributors, after its success at the 2010 Sundance Film Festival. The proposed, irresistible title, I'm Pat Fucking Tillman—based on the local hero's last words—seems to have been censored down to The Tillman Story. It is, of course, the story of Tillman's death by friendly fire in Afghanistan and the subsequent Pentagon cover-up.
Monroe tells me that he was brought into The Tillman Story late in the game by an executive producer. "My job was to clarify some things and do some writing. The film was all there, which is sometimes not the case when I get aboard. I couldn't be more pleased with it. The Tillman family's uniqueness shines through this movie. They're very admirable people."
As for developments in Japan since The Cove was released, Monroe has very little good news.
"They're still killing cetaceans in Japan and trying to spin the PR. Ric O'Barry, the star of the film, has been back very recently, and he witnessed another dolphin harvest there. The good news is that the Oscar nomination is going to bring more attention to The Cove. The Oscar broadcast is more watched than anything besides the World Series, and it's hugely popular in Japan. Regardless of how we do, we'll make a splash."
The Cove hasn't been released in Japan yet, though it has been screened. Once.
"At the Tokyo Film Festival they scheduled a last-minute, politically motivated screening," Monroe says. "We weren't even on the film program, and we went on at 10am. The producer had Japanese warrants for his arrest, so he attended with lawyers in tow. There was a mixed reaction to the film and no standing ovation. It'll be released when someone springs for a Japanese version ... or we'll blast it on YouTube."
Monroe has directed one film also: Morning Light, a documentary on the Transpac yacht race between San Francisco and Hawaii. He had never been a sailor before: "I grew up in Oklahoma, remember. That's the beauty of documentaries: you become a quasi expert in a field in a very brief period of time. I couldn't be happier with my lot in life; I wish it paid more, and I wish I could get more people to see documentaries, but otherwise ..."
However many people see The Real Revolutionaries, the film will be hotly anticipated in this valley.
"Not to brag," Monroe says, "But we're doing this film because I personally fell in love with it. The reason I fell in love with it is that I knew what it was like to have been these people. I was in my mid-to-late-20s at the end of my journalism career, and I really want to do something with my life. And it was like that for Noyce and the rest of the Fairchild Eight. After their final interaction with Shockley—they didn't go back East and take jobs; they stayed in the valley for the crest of the wave. It's very admirable and very inspiring.
"Well, that's how we explained the film at first ... but in the middle of making it, we realized how difficult and hugely complex it all was. I don't think the story has been told before in a film: it's hard to illustrate, hard to explain. I'm not a tech head, but I got this deep feeling that I take all this stuff for granted, and moreover, I've seen the history unfold in my lifetime. I'm not completely blown away anymore when I rent a car and there's a GPS system in it."
Calling what happened at Fairchild "a revolution" makes The Real Revolutionaries sound like an alternative to alternative histories of the 1960s.
"That was definitely my intention," Monroe concludes. "I'm a great believer in irony, and the great irony of this story is this: the world remembers the political movements, the music and the art, and yet the valley's revolution was going on at the same time. We now enjoy great liberties because of what was done in the Silicon Valley. All of us deal with this technology every day of our lives, and yet the story of how it happened has been short-changed: we celebrate it all not by remembering it, but by living it every day."
THE REAL REVOLUTIONARIES (U.S.; 89 min.), shows Feb. 25 at 7pm and Feb. 27 at 7pm, both at the California Theatre in San Jose.