Movies
Winging It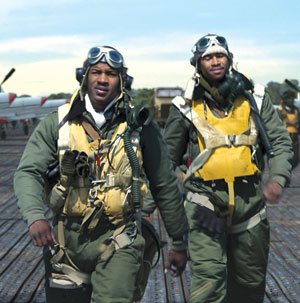 THE HEROISM of the Tuskegee Airmen will never be forgotten. Red Tails, however—forget about it. Executive producer George Lucas once stitched in excerpts of World War II-era movie dogfights to let the studio know what he had in mind for the battle sequences in Star Wars. Red Tails seems to have rewoven all those snippets together.
The film follows the history of the African American 332nd Fighter Group, stationed in Italy in the last two years of the war. In charge is Col. Bullard (Terrence Howard), who urges the Pentagon to give his men a chance to perform in combat. His assistant is the thoughtful Maj. Stance (Cuba Gooding, Jr.)
As per Top Gun, everyone has one well-defined problem. Admittedly, if the characters are only as deep as their flaws, it's hard to act around rubber oxygen masks. Director Anthony Hemingway disinters every pre-Catch-22 devil-dogs-of-the-air nugget of dialogue ever written. "How do you like that, Mr. Hitler?" says an ace after shooting down a plane. A scar-faced German called "Pretty-Boy" (Lars van Riesen) attacks in a Messerschmitt 262 jet fighter shouting, "Die, you foolish African!" There's not much more of the unexpeted in the tender courtship between an Italian girl (Daniela Ruah from CSI: Los Angeles) and the hot-shot "Lightning" Little (David Oyelowo).
The filmmakers open up a big barrel of anachronisms: the prayer session, football huddle and group cheer before flying the big mission are the most noticeable. Lastly comes the point—"We are on the side of God almighty"—and the screen goes wall to wall with American flags in the hope that patriotism will make us turn a blind eye to the weary falseness of Red Tails. It's not the Duration anymore; a film could tell the truth about the bitterness and pain of war and explain the backgrounds of the soldiers and the depth of segregation in America, all without encouraging the Axis. The film has scenes at the Pentagon—has a movie ever noted that the place was built with segregated bathrooms?
This pumped up late-show offering does display a few vintage planes; mostly, however, we see CGI fighters rolling in a spotless, synthetic white sky. This action is only going to look real to gamers, who make allowances for the limits of digital video graphics.
PG-13