Movies
Robin Hood
Despite the jaunty aspect of Douglas Fairbanks, Sr., the 1922
'Robin Hood' is actually a Freudian adventure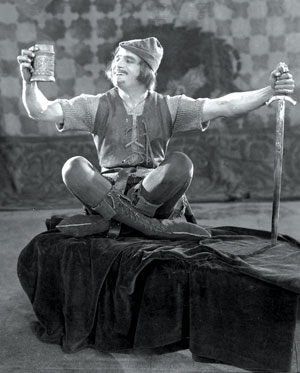 The castle for Robin Hood (1922) was the largest set then ever built for a movie up to that time, bigger even than D.W. Griffith's Ishtar Gate in Intolerance. Historian Kevin Brownlow writes that it even scared Douglas Fairbanks, Sr. "My work is intimate," an amazed Fairbanks told the director Allan Dwan. "I can't work in a great vast thing like that." The Stanford Theatre revives the silent classic this Friday (followed on the weekend by the 1938 Errol Flynn version, The Adventures of Robin Hood).
Robin Hood was a monster hit, but then the film was lost for a few decades before being found again in the 1960s. Fans had remembered Fairbanks, nimble as a squirrel, leaping over the castle walls. They didn't remember the setups—the fact that we don't see Robin Hood until half the film is over.
The film got a reputation as dull. Slow-starting it is. Dull it isn't. Robin Hood is a Freudian tale. The Earl of Huntington, intimidated by his fatherly king, is greatly attractive to women, but so awed by that he stutters. After a crisis, Huntington returns to nature, becomes his own man and is finally seen at the foot of his own marriage bed.
The story, which Fairbanks co-wrote, sets up the heroes and the villains in a way later versions of Robin Hood presumed we already knew. Robin isn't just on the outs with the Sheriff of Nottingham and Sir Guy of Gisbourne; he's also in disgrace with the good King Richard (Wallace Beery), who thinks his favorite earl is a deserter from the Crusades. Dwan expertly works up the audience's thirst for justice through the sadism of King John (Sam de Grasse, also the king in The Man Who Laughs).
The castle remains a star, if not the star. Though it impresses, from the first lowering of the gate, to the final slamming shut of it behind a dejected figure, it's less memorable than Fairbanks. His small Robin triumphs over the gargantuan Dor–-like castle in the way Fontaine did over the Montluc prison in A Man Escaped, or John McLane did over Nakatomi Plaza in Die Hard.
Robin Hood represents one of the deepest roots of the action cinema. That's part of the reason the Jean Dujardin character in The Artist mentioned the star's name at the Oscars, as well he might, seeing how Dujardin edited himself into Fairbanks' The Mark of Zorro. Here is the man himself: quite human, even fleshy, and yet touched with some supernatural grace. Robin Hood's working title The Spirit of Chivalry is apt; that's what Fairbanks embodied.
Robin Hood
Friday, 7:30pm; Stanford Theatre, Palo Alto