Movies
Seeking a Friend for the End of the World
A drab salesman faces the last days of existence with help from a quirky pixie in new Steve Carell feature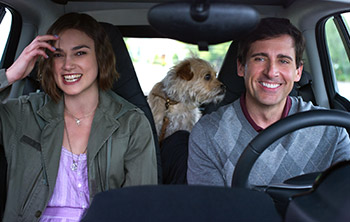 NO ONE WANTS to die alone. So it would probably be a good idea to avoid theaters playing Seeking a Friend for the End of the World. The new Steve Carell depression fest is by Lorene Scafaria, who wrote Nick and Nora's Infinite Playlist, debuting as a director.
As he has since Dan in Real Life, Carell flashes flinchy, brave little smiles, like a child trying not to cry when getting an allergy shot. Keira Knightley plays his younger love interest, Penny, the Manic Pixie Dream Girl. The archetype is all there, from scuffed Converses to the scratched vintage LPs she clutches.
The legion of good comedy actors backgrounding this elfy/mopey coupling don't give enough to do any good. They serves as momentary stimulants to the film's enlarged, murmuring heart.
The meteor Matilda is likely named in honor of the end-of-the-world drama On the Beach, which used "Waltzing Matilda" for its theme. At the beginning of Seeking a Friend, an Armageddon-like mission to blow up Matilda has failed.
Earth can only wait for doom. The transit system breaks down, and the phones go dead. In what is supposed to be a New York City apartment, the drab, sweater-clad insurance salesman Dodge (Carell) has just been abandoned by his dissatisfied wife.
He is invited to an orgiastic party; the sarcastic man of the house, Warren (Robert Corddry), is having a high time serving cocktails to his 10-year-old children. Dodge's fat pal, Roache (Patton Oswalt), is in ecstasy about being able to get laid at last, without worry of pregnancy or disease.
Dodge remains too sensitive for this excess. He also flinches at a strong come-on by Karen (Melanie Lynskey), ebullient in tiara and a riot of formal wear. (I have a problem with the film's contention that Carell is out of Lynskey's league; the opposite is clearly true.)
After some patches of cinematic dead air establishing the slow collapse of everything, Dodge's downstairs neighbor Penny sneaks into his apartment and passes out on his couch. They bond, the riots begin and then it's road-trip time.
Dodge knows where Penny can get a plane to England so she can be with her parents once the world ends. His last goal is to drive out to see for a last time the love of his life, his high school sweetheart.
The destination is Delaware, but Scafaria decided to film in L.A., so end-times Camden, N.J., is played by the San Fernando Valley—it might have been easier to rewrite the script. But there is the matter of the vehicle chosen for Penny's flight across the Atlantic, a two-seat prop plane. It's enough of a stretch to imagine that Lindbergh-like crossing without adding a cross-country flight to it.
When there's really nothing else to look at, a viewer isn't being nitpicky by pointing out illogical details. And unlike the hungover, too-hot light in Don McKellar's similarly themed but tougher Last Night, nothing in the visuals here makes the apocalypse look truly impending.
Contrast Carell's own despair and the way lesser, simpler people cling to their jobs. This can be funny, as when T.J. Miller plays the hysterically upbeat host of a Friendsy's (i.e. T.G.I. Fridays), where the crew has decided to go to their God stoked to the max. The flair, the cheering and the donut-burgers are a kind of brave sight, like the band playing on the Titanic. This call of duty, however, can also be gaspingly patronizing: Dodge's humble Latina maid, Elsa (Tonita Castro), wants to die as she lived: cleaning windows.
This morbid kind of romance resembles the Woody Allen joke about the lover trying to seduce a woman with an offer of twin cemetery plots. That fatalness is mirrored in the words used to describe the high school romance that went south because Dodge dodged. Penny guesses, "You didn't pull the trigger," i.e., propose marriage. What seems to be going on here isn't a metaphor for la petite mort (as in Cutting Crew's ghastly 1986 hit song) as much as advice to the audience to find that special someone, curl up and die.
Seeking a Friend for the End of the World
R; 101 min.
Opens Friday, June 22, 2012