Movies
The Sleuth Is Out There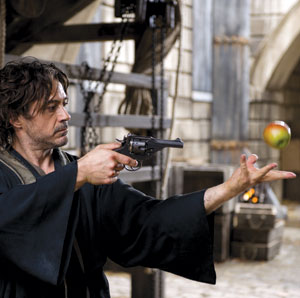 IN Guy Ritchie's hasty and frequently low-class sequel, Sherlock Holmes: A Game of Shadows, the detective is treated as a clown throughout—with cheap wigs and beards and long underwear scenes. Holmes (Robert Downey, Jr.) wears humorous goggles; he is even painted with mascara and lipstick. Sooner or later, the hero in a Joel Silver–produced movie ends up as Bugs Bunny. The oil spreads. Mycroft (Stephen Fry) turns up nude and persists in referring to his less-smart brother as "Sherley," as if he were Miss Temple.
The match-up between Holmes and Jared Harris' Professor Moriarty survives Ritchie's unconquerable urge to vulgarize. This time, Moriarty is kind of a Krupp, as one can see from all the explosive ordinance in the trailers. The movie's true suspense comes in the end-game: Holmes and Moriarty, in heavy bearskin robes, play a game of chess on the balcony of Swiss chalet. The place looks like a frozen castle in Mordor. The professor is a sweet role for any actor, and Harris does it well. There's a vaguely syphilitic quality to this citizen above suspicion, with his smooth manners and ogreish teeth. One nasty scene has Moriarty admiring his reflection in a mirror, singing Schubert's "Die Forelle" while putting Holmes through the torture sequence.
Sadly, women seem retrofitted into the script. Rachel McAdams' Irene Adler gets a demonstration of Moriarty's power at a crowded restaurant; this demonstration, witnessed from a fly's-eye view on the ceiling, is the movie's single best scene. Noomi Rapace, formerly the Girl With the Dragon Tattoo (in Sweden anyway), plays a Gypsy trying to avenge her brother. She shows off cheekbones that would make a jaguar look flabby, as well as a fashion model's ability to flatter even the most preposterous hat.
Possibly because of the snow scenes in Game of Shadows, Ritchie delivers two separate shout-outs to the 007 Christmas classic On Her Majesty's Secret Service. It has been forgotten that there was a romance in OHMSS, and there's really none here: just the partnership of two men and their conveniently missing beard, Mrs. Watson.
The bromance peaks in a cramped ballroom, where a tuxedoed Holmes dances with Watson (Jude Law). Like all the film's many jokes and double-entendres questioning the closeness of the great detective and his assistant, this moment is absent of all sexual magnetism. Unless you're sexually aroused by stupidity.
Sherlock Holmes: A Game of Shadows
PG-13; 129 min.