Movies
Cut and Paste
In Almodovar's The Skin I Live In, Antonio Banderas plays a mad doctor with designs on a woman's body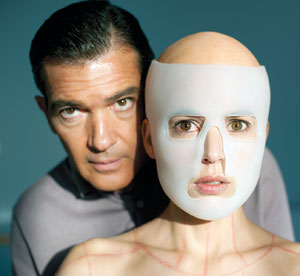 IN THE operatically pervy The Skin I Live In, Antonio Banderas is clearly a mad doctor. Dr. Robert Ledgard is a wealthy plastic surgeon of Spain's Toledo, with a sealed-off estate lined with mural-size replicas of famous nudes of Venus.
Ledgard embodies what the professors call "the privileged male gaze." And he takes his private privilege in his bedroom, where he puffs a little after-work opium. With high-def cameras, he studies a captive woman called Vera (Elena Anaya) performing yoga exercises. She wears a taupe-colored skin suit like the medical leotard they put on burn patients.
The doctor is almost finished with her. He examines her, checking her skin for sensitivity and her breasts for malleability. Is he perhaps her patron with benefits? The walls are lined with art, charcoal scribblings in eyebrow pencil.
Like Lionel Atwill in the pre-Code horror film Dr. X, the doctor is advancing on synthetic skin to aid his m–tier, face transplantation. He describes one such operation as "the most moving experience of my life." His short-sighted colleagues shun his methods. He was once a married man whose family was destroyed under alarming circumstances.
This story unfolds with the return of a figure from the doctor's past: Roberto Álamo as Zeca, a hugely muscled criminal in a tiger costume. And then we cut to the tale of a working kid in a dress shop (Jan Cornet) who seems to have no bearing on the story whatsoever.
This is Pedro Almodovar's 20th film and likely his craziest, with a soap-opera plot of rapine and revenge that's as beautifully togged as the Gaultier clothes the cast flaunts. As Georges Franju said of his 1960 film Eyes Without a Face, this is not a horror movie, it's a movie about anguish. Almodovar keeps the blood to a minimum and the torment mostly offscreen; apart from a shooting or two, the most grisly moment is the delivery to the doctor's lab of a quart of blood: "It was taken from the living animal."
After beautifully turned work such as Broken Embraces, Almodovar goes down and dirty—he visits the other side of cinema, the fields where Jesse Franco and Mario Bava once played. With beauty and wit, Almodovar brings the dungeon melodrama back to a cinema that's degraded it, made it gory and annoyingly moralizing.
The basic humanity of the film isn't in doubt: viewers can find a pal in Marilia (Marisa Paredes), the salt-of-the-earth, Thelma Ritter–style housekeeper. She's a mother who carries madness without personally suffering from it: "I've got insanity in my entrails," she laments.
Aiding the lazy researcher, Almodovar mentions the films that gave him some of his ideas. Though based on nouveau pulp by the late Thierry Jonquet, even Skin' s poster should tip off viewers to the links with Eyes Without a Face (a Halloween rewatch could get you in the mood for this skin-tingler). Vera is posed as Francine Berg–, the Catwomanish Diana in Franju's Judex (1963). Almodovar also sources the look of Bava's Danger: Diabolik (1968), with its bad kind of Batman, all latex and staring eyes.
The Skin I Live In has such class and classicism that it doesn't fit in the current self-conscious horror-film scene, with its primal fear of moods and plots that go over the top. In 1948, The Skin I Live In would not only have been easier to file under melodrama, but it would have even been easier to sell: "Zeca: Was he a MAN? Or was he a jungle TIGER?"
The Skin I Live In reconciles mad passions with happy endings, and one of the happiest must be Banderas. Loved but sadly typecast in rich Corinthian accent parts, Banderas shows what a performer he is in his native language. Unassailably macho, Banderas, as an actor, is a major critic of the interior contradictions and madness of machismo. And naturally he's a convincing madman, playing his part as coolly sane as he can. This reunion was a blessing for both director and star, and the audience couldn't ask for a richer, stranger Halloween film.
The Skin I Live In
R; 107 min.
Opens Friday, Camera 7, Campbell, Cin–Arts Palo Alto