Movies
Buster Poses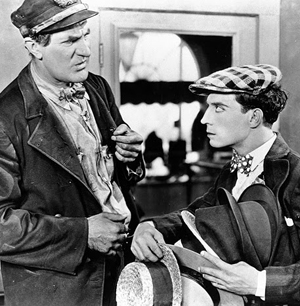 BOTH A barbed study of father-son disappointment and a brilliantly engineered slapstick comedy, Steamboat Bill, Jr. (1928, showing this weekend at the Stanford Theatre) is neither the deepest nor the most popular of Buster Keaton's films. Still there's enough here to prove that Keaton was the monarch of silent comedy, who, as the greatest comic talents must, teamed up the highest and lowest comedy, telling of the smothered registration of disappointment as well the walloping kick in the pants.
Son of a presumably divorced family, the prissy beret-wearing Bostonian William Canfield, Jr. (Buster) comes to River Junction, Miss. (in reality, Freeport and Broderick, river towns near Sacramento). He's gone to meet his father (Ernest Torrance, a bigger, scarier version of James Cromwell). Times are troubled: old Steamboat Bill's decaying boat is being put out of business by the town's arrogant boss, who is named King. Not only is this too-smooth college boy a disappointment to dad, but there's worse trouble: King's pert little flapper daughter, Kitty (the teeny Marion Byron), who is also in town, is a college pal of Bill Jr.
Keaton gives us bleak, even painful, moments of comedy—the father taking charge of the grown student as if he were a 6-year-old—followed by an amazing finale: an entire breakaway town peeled apart by a killer storm. It's a demonstration of Keaton's spectacular yet precise prop engineering, as well as the brute force of six wind machines, each powered with a V12 400-horsepower Liberty engine. (Keaton later recalled with satisfaction, "We took a truck past there once, and one machine blew it off the bank, and it rolled into the Sacramento River.")
Double-billed with Steamboat Bill, Jr. is Keaton's first feature, The Three Ages, his burlesque of D.W. Griffiths' epic Intolerance. In this big step in Keaton's evolution from two-reelers to feature films, he first plays a cave wimp of the Paleolithic ("My card," he says, handing a stranger a slab of rock with an unsmiling pictograph in it). As a Roman Androcles, he manicures a lion. And in the modern-day segment, he experiences the "speed, need and greed" of city life. The film is a catalogue of what was on the minds of the times: ethnic humor, gadgets, comic strips (a big shoutout to Barney Google), suffragettes, prohibition, football, baseball and the movies. (At the screening, the authors of Theatres of the San Francisco Peninsula will sign copies of their books.)
Steamboat Bill, Jr.
The Three Ages
Friday, Stanford Theatre, Palo Alto