Movies
Searching for Sugar Man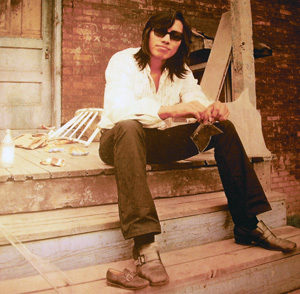 The cryptic lines and lyrics on a 33-1/3 album hid the whereabouts of a mysterious figure, masked by sunglasses. The distance between the seekers and the sought deepened the mystery.
Malik Bendjelloul's thrilling documentary Searching for Sugar Man is a tale of two cities 8,000 miles apart. One is sunlit Capetown, South Africa. The other is Detroit, in full Moldavian squalor, shot in winter with dirty snowdrifts littered with abandoned furniture.
In a Motor City bar in 1970, a joint actually named "The Sewer," a folk-rocker named Sixto Rodriguez performed. Rodriguez was shy; he used Miles Davis' trick of playing with his back to the crowd. Rodriguez got noticed by producers Dennis Coffey and Mike Theodore. They recorded two albums with Rodriguez. The records tanked, and then, we're told, the singer apparently vanished.
By some trick of fame, Rodriguez's two albums—Cold Fact and Coming to Reality—were brought by a tourist to South Africa during the worst of the apartheid days.
They became more than big hits, these albums. In fact, they became wrapped up with the struggle against apartheid; white Afrikaners pored over Rodriguez in the same way rebellious young white Americans listened to Bob Dylan. Lacking the story of what happened to this musician, South Africans told each other myths of Rodriguez's supposed public suicide.
Equally mysterious is the money trail out of that country. Searching for Sugar Man's bleakly funniest moment is an interview with the elderly Clarence Avant, formerly of Rodriguez's label, Sussex Records. Avant seems to smell a journalistic ambush regarding the question of Rodriguez's significant African royalties.
Bendjelloul's angle resembles the work done in Nick de Grunwald and Martin R. Smith's superb Classic Albums series, now downloadable on Netflix. Searching for Sugar Man's director, a vet of the popular Swedish news show Kobra, doesn't dwell on the moral pitfalls of Rodriguez's life. It may be enough to note that Rodriguez's tune "Sugar Man" (from which the film gets its title) is about the illegal sort of sugar. Rodriguez's daughters are there to testify as to how their father exposed them to art and culture when they grew up. "He showed us the top floors of places," one says.
Sometimes this history appears to be plumped a bit, as if a smoke machine were haloing the figure of Rodriguez. While Rodriguez didn't record a studio album after 1971, he did have a live album in Australia in 1979. (Rodriguez was big enough Down Under to have toured in 1981 with Midnight Oil.)
His rapt Afrikaner fans cite Dylan when talking about the man; these vocals and autobiographical lyrics actually sound more like Donovan at his best. In those Nixon years, profound yet unappreciated singer/songwriters were as common as gooseberries. Rodriguez's case could be matched by other strong talents with weak record labels, such as Tom Rapp of Pearls Before Swine. Rapp was, pre-Internet, also surrounded with weird rumors; it was said that Rapp quit music and become a gravedigger.
On the shelves of one South African fan's record collection, we see a CD of Love's Forever Changes displayed; the L.A. band was another victim of the calculus of fame.
Admittedly, the quality of Rodriguez's music isn't any more relevant to this documentary than the quality of Dow Mossman's fiction is relevant to Stone Reader. I feel like slightly straightening the picture, but it doesn't change the image much: Rodriguez is a serious working-class sage. Searching for Sugar Man is a hell of a comeback story, and the documentary is handsomely done, considering the lack of current technology. (Some of it was filmed with the Super 8 app from an iPhone.)
The story of Rodriguez's music, heard so far away from the man who made it, is an endearing lesson that a work of art lives a life of its own. It's easy to admire this musician's plainness and independence. Equally admirable is the faith of the distant fans who stayed true to him.
PG-13; 86 min.