Movies
Super 8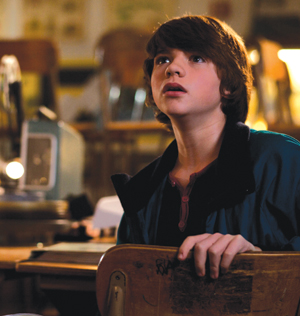 LILLIAN, OHIO, Ohio, pop 12,000. Super 8 begins here in the winter of 1978, at the local steel mill. In slightly slowed motion, a camera tracks to the sign above the floor announcing that it's been 800-plus days since the last accident. Mournfully, a man on a ladder changes that number to "one." The scene dissolves into a swing set in the snow, where Joe (Joel Courtney) is sitting by himself.
By the summer of 1979, Joe and the rest of his four-man gang are enjoying the last day of school. They're incubating a zombie film. The director is the husky Charles (the Seth RogenŠlike Riley Griffiths). Charles' choice for the female lead is Alice, played by Elle Fanning, who is perfect for the part: pretty, but not distractingly so, and pinched by sorrow. The gang sneaks out for a clandestine shoot outside the railroad station. Sometime past midnight, there's a train wreck of absolutely lyrical destruction. Very quickly, sinister Air Force Col. Nelec (Noah Emmerich) turns up and commences something distressingly called "Operation Walking Distance."
Director J.J. Abrams is replaying the classic 1950s space-monster movie, though few of them were shot with this kind of daring or visual density. Yet Abrams doesn't make more than a mere visual connection between his monster and the titanism of the steel mill, despite the ending. How can the filmmakers avoid nostalgia when they did such a tender re-creation of the era? But Super 8 has one monster trapping people, when it could have had two of them: a creature on the loose and the Moloch-like mills, sitting and waiting. Also, there are some plot holes that will open up when people start mulling over Super 8. Abrams' praiseworthy emphasis on practical effects over CGI make this creature as tangible as the world it attacks. But when we at last get a good look at the monster, it turns out to be Abrams' partner Steven Spielberg. The insistence on sentimental awe overcoming invigorating terror is the mark of Spielberg. Super 8 takes a bad curve into the most tear-jerking kind of family. Entertaining and deft as it is, Super 8 has the kind of ending you want to walk off like a sports injury.
PG-13; 112 min.