Movies
The Hangover Part II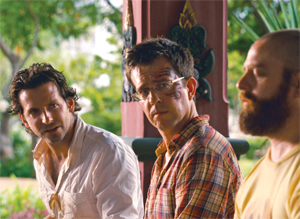 KEN JEONG is a physician as well as a standup comedian, and if The Hangover Part II could have been healed, he could have done it. The film tries to follow the rules of sequels—exactly the same thing as the 2009 hit, only bigger and broader. And by everything, I mean really everything, from the soulful tune in the middle (a mangling of Billy Joel's "Allentown") to the final photomontage showing us what actually happened.
The ensemble goes to a five-star Thai resort. Once again, the drugs kick in. The friends wake up in a sleazy Bangkok hotel, hung over and amnesiac. Maybe the saddest words in the movie are "I think it happened again." It takes a lot of time to explain why Phil (Bradley Cooper), Stu (Ed Helms) and Alan (Zach Galifianakis) got back together in the first place; it's exposition as useless as explaining why the Three Stooges have to live together. (Alan got his head shaved, a way to bring out the Curly resemblance.) On this round, they brought along a natural hostage, Teddy, an underaged Stanford pre-med student. Teddy (played by Mason Lee, Ang's son) has the most underwritten part, and yet he must have represented the most sensitive rewriting, since he's the "good" Asian in the movie. Ultimately, it's a complete failure of characterization.
The background isn't naturally fun, like Vegas. Bangkok is a smoggy sprawl punctuated with vertiginous luxury towers. It's hard to get into the spirit of things until Jeong's profane Mr. Chow turns up, penis first. Chow is a self-described "international criminal" in charge of the revels. He seems absolutely free from the conventional rules, and moreover Jeong is the only serious physical comedian in the movie. (He's worthy of the Bruce Lee squalls he utters; he moves like a panther.) He's so good that director Todd Phillips must have had to ration him out in small doses, because he was too good.
Next in line after Jeong for comedy is a spider monkey that ends up doing a lot of things that the SPCA wouldn't like. Ultimately, The Hangover Part II leaves us with nothing but the question of degree: Is the always-funny chimp with a cigar a comedic step up or step down from a spider monkey with a cigarette?
R; 102 min.