Movies
The Raid: Redemption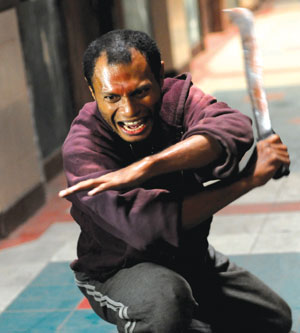 Some of the most stunning action choreography since Hong Kong was a crown colony is visible in Gareth Evans' terribly exciting film The Raid: Redemption. It's close to pure sensation. In a foggy dawn, a Djakarta police SWAT team is driving up to a heavily fortified apartment building.
A gray-haired lieutenant (Pierre Gruno) leads the charge. Under him is Rama, one of the few who will survive the day's attack. Rama is played by Iko Uwais, the film's fight choreographer and expert in the Indonesian martial art "Pencak Silat." Uwais is also the one who endures the most palm-sweating ordeal when he hides between the walls of an apartment as every hiding place is probed by machetes.
The goal is the top floor, where a Mabuse-like criminal (Ray Sahetapy) is secure behind a wall of closed circuit cameras and microphones. He has rented the entire building out to indebted fugitives. He has, as his last line of defense, a savage but skinny thug called "Mad Dog" (Yayan Ruhian): "When I'm in a bad mood, I tend to lash out," he explains.
I scarcely think people ought to be apologetic for not wanting to watch this kind of thing. But while the situation is believable, the way it's carried out is far too fantastic to take as sign of moral decline. The physical unfeasibility of the violence here is the real "redemption." If the apartment-to-apartment fighting we see here were even partially real, the film's running time would be five minutes.
Moreover, even though the fighting is so intense it's unreal, the film doesn't seem to have been made by a psycho. Evans is Welsh, not Asian, but he's picked up an element missing from most American action films: the belief in a moral order, the contradictions between the common human sense of pity and the absolutely pitilessness of a small few.
Evans also dismissed the quick cutting to show us how this little-known martial art works. In his phenomenal stunt work, the only possible trick is not minding that it hurts. There are only tiny spots of digital work—augmentation of an explosion during the most novel use of a refrigerator since Indiana Jones and the Kingdom of the Crystal Skull.
R; 101 min.