Movies
Tommy Wiseau: The Room
Tommy Wiseau, the man behind 'The Room,' comes to San Jose to meet his cult followers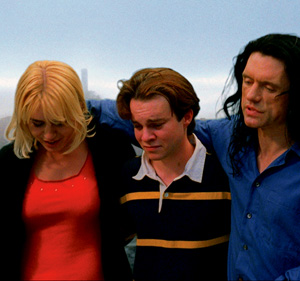 Tis not folly to be Wiseau. Tommy Wiseau, star and director of The Room, comes to San Jose this weekend with his co-star, Walnut Creek-raised Greg Sestero. This cult film has played for two straight years at Camera 3—a good track record, but there are cities where the film has played for four or even 10 years.
The Room is a very unusual indie movie. It's mumblecore and melodrama wrapped into one big burrito. It's a love story in a cinematic culture that pigeonholes such films as chick flicks.
Santa Cruz filmmaker Jesse Goldsmith is one of the "Roomies." He tells me, "By golly, what people don't understand is that The Room isn't a bad movie at all. The Room is a masterpiece. Really. One of the few essential [Bay Area] movies since Vertigo. I can make you a laundry list of supposed comedies made during this past decade, and none of them would hold a candle to Tommy Wiseau and company."
Goldsmith notes the tonal shifts: "The imbalance of every possible element is what makes the 'joke' in The Room more than just a one-note attraction and keeps people watching it again and again."
Considering the international promotional tours Wiseau has been on, the CNN interviews and the line-dropping on The Simpsons ("Lisa, you're tearing me apart!"), it seems redundant to sum up The Room. In one line, the film is the story of a brooding, long-haired and heavily accented man savaged by romantic betrayal in San Francisco. Wiseau worked in that city doing construction, while studying acting with Jean Shelton, who in turn studied with Stella Adler. Wiseau knows the South Bay at least well enough to recall that he had once visited the renowned world's-largest flea market.
"It was a movie made by design," Wiseau explains by phone from Los Angeles. "I spent a lot of money to create this little baby. As a filmmaker, the more colors you use the better, the more details, the better. The elements of the story—the drugs; two are better than three; three's a crowd—all this stuff is based on life and the interaction between humans."
The 10th-anniversary edition of The Room on Blu-Ray includes different extras than the previous DVD release. Wiseau insists that the new Blu-Ray extra documentary footage proves what he has always maintained: that there was a method to his romantic madness. If there are certain shifts of tone in The Room, perhaps they're due to condensation problems. Wiseau's source was his own 800-page novel, which he then shortened into a play—and then a film script. Happy news: the source book may be published soon.
The origin of the cult status can be traced to an Oscar-qualifying Los Angeles screening in a theater where the only available slot was late at night.
Wiseau purchased a billboard ("With good traffic, it wasn't cheap") to promote the screening. Thanks to word of mouth, the film drew an incredulous crowd. Wiseau ended up extending the billboard contract for five years. "I had a different idea of how this was going to work out, but I like it better in the way it's caught on, like Rocky Horror Picture Show. It's more honest this way."
I asked Wiseau what kind of movie he would make if he had $150 million. "If you gave me $150 million, I would love you, man! I'd make two different movies, or maybe split one in half. Maybe two vampire movies, because I like those—the vampire movies with love scenes. I'd hire the best possible actors." In the meantime, Wiseau has a new film, titled Foreclosure, coming out this year.
The Room's fame has changed the opinions of people who worked on it. "After 10 years, I'm running into people who quit the film who now want credits on it," Wiseau relates happily. Asking him to name a film he thought was a contender for the worst movie ever made, Wiseau replied, "Any film that is too boring to watch." Plainly, that's not The Room.
Wiseau says he hopes everyone will react in his or her own personal way to his film: "You can laugh, you can cry, you can express yourself, but please don't hurt each other."
Tommy Wiseau in persion>
Friday-Saturday, April 12-13; 9:30pm screening: $15.