Movies
The Sessions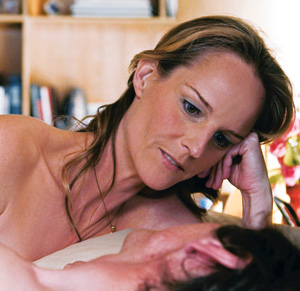 The surprise about The Sessions is that despite the seemingly dire subject matter, the film is mostly a comedy. Berkeley writer Mark O'Brien (subject of Jessica Yu's 1996 Oscar-winning documentary, Breathing Lessons) was confined to an iron lung because of childhood polio; he earned an English degree at UC-Berkeley and managed to write prose and poetry with a stick held in his mouth. Set in the late 1980s, the script is based on an article O'Brien did for the North Carolina literary magazine The Sun about his experience losing his virginity late in his 30s to a sex therapist.
Helen Hunt has the role of Cheryl, the unglam healer—she drives a Country Squire station wagon. Hunt's aquiline face is seasoned but not carved into a doll's grimace by plastic surgery like far too many of her contemporaries. It's essential to her aura of authority. One respects her as an actress because she's not a smiler.
Director/writer Ben Lewin, who has been working for a couple of decades without causing a big splash, has a taste for strong faces. Mark's regular helper, Vera (Moon Bloodgood), is an Asian woman with a tightly braided pony tail and Clark Kent glasses. She downplays every reaction, even when talking about penis size with the curious Mark.
Mark falls in love with his earlier attendant, Amanda. He describes her in one of his poems as having a "Tudor face," yet Annika Marks, who plays her, is far more Mediterranean than that Anne Boleyn type one often sees in the small-town South.
John Hawkes, who plays Mark, has to work with his face instead of his body—and with his head held at a difficult angle. Hawkes has excelled as dangerous men: the Manson figure in Martha Marcy May Marlene and the meth-cooking uncle in Winter's Bone.
Although the gold standard of paralytic acting is still Daniel Day-Lewis in My Left Foot—there's no shade of a confined man's wrath here—Hawkes' gentleness and fine comic timing make The Sessions a sex comedy of a variety we haven't seen before.
The sessions with Cheryl give Mark confidence, and he was a talker already—as much as his lungs allowed. His confidant is Father Brendan (William H. Macy), who hallows Mark's plan. (He is punished for it: Mark's conversation becomes more and more explicit, and the harrowed priest is driven to cigarettes and beer.)
The scenes of Hunt and Hawkes together required a lot more physicality than you get in American movies, and the mood goes to the border of raunch. (It turns out not to be a good idea to sit on the face of a person who has to sleep in an iron lung.)
The Sessions pleasingly records the sunlight, the cafes and the cottage gardens of Berkeley, one puzzling inset of a cable car notwithstanding. But the conflict between Cheryl and her husband, Josh (Adam Arkin), comes off as contrived.
Cheryl is strictly professional at first. When Mark tries to quiz her about what she's like, she responds, "What you'd want to know about me is that I'm a private person." Eventually, she describes Josh as a philosopher and a guitar player. We can see that as soon as the words are out of her mouth, they sound to her (and us) like "He's a bum." Josh is usually shown reclining, and later he throws a jealous fit at the letters Mark sends.
To gin up the potential romance, The Sessions wanders away from the respect it gives to the unusual and certainly difficult profession. Things don't have to be this way. When Cheryl comes home unnerved by a hard day's work, Josh says without irony, "You're a saint." It might have been funnier to take The Sessions in that direction; there still are Berkeley (and elsewhere) husbands who wouldn't mind.
We get what we get in the movies, and The Sessions is essentially lovable. Hawkes and Hunt are ultimately very touching, and Lewin's two final matching shots are both gently sentimental and tastily mordant. This movie could have gone so, so wrong.
R; 95 min.