Movies
Third Star
Benedict Cumberbatch takes time out from fate to tour the coast
with three chums in Third Star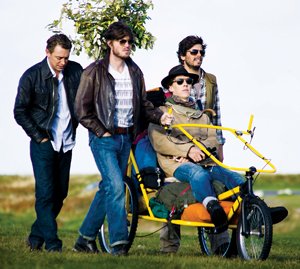 SO, Benedict Cumberbatch. As he is the son of a pair of British actors, we can speculate he was given his (modified) first name after one of Shakespeare's most sarcastic characters. Indeed Hattie Dalton's film Third Star has a view of marriage that isn't much happier than Benedick's thoughts about the institution in Much Ado About Nothing: "Thrust thy neck into a yoke, wear the print of it and sigh away Sundays."
Cumberbatch went to Harrow, so the edge of disdain in the accent is all natural. So is the name—in an interview, Cumberbatch said his name sounds like "a fart in a bathtub"—that modesty seems less than authentic, but it's nice that he made the effort.
Having a long, slightly put-upon face and slitty eyes, he's both equine and tigerish. Cumberbatch starred in and made spellbinding something that could have been a real atrocity: a three-episode miniseries updating Sherlock Holmes to the present. It was a deserved hit on British TV.
Third Star—robustly mushy as it is—shouldn't slow his rise. An actor playing Holmes needs to have something of the air of an invalid—the indoorsy look. Cumberbatch has his share of this quality; as the dying James in Third Star, he comes across like someone with one foot in the next world already. He's pale, interesting and doomed: he has terminal cancer: "I'm 29; I won't see 30. ... I'm OK with that."
His three pals decide to take him on a camping trip to the remote Pembrokeshire coastline, and this jaunt makes up most of the film: a long squabble silhouetted against impressive seaside sunsets. Occasionally, perhaps due to the morphine he's swigging, James sees visions of a hooded figure standing on the shore against a black sea. Writer/producer Vaughan Sivell is apparently from this area; the rugged locations are striking enough to keep you watching as James and his insufficiently differentiated friends have it out.
Davy (Tom Burke) is the salt-of-the-earth pal who has been a human crutch to James in his illness. Miles (JJ Feild, who skews toward Jude Law) is a rich dick with secrets galore and dashed literary hopes. Bill (Adam Robertson) is marking time filming soap operas, when he once had serious filmmaking potential.
The amount of grab-ass in this trip is noteworthy. One character says, "Don't wrestle again; I'm bored seeing you wrestle." It's another one of those movies where the bromance runs so heavy that they have to make the gay jokes to try to defuse the tension every three minutes.
The Peter Pan reference in the title also tips you off: These are lost boys. The characters they meet along the way are similarly mislaid: a strange middle-aged beachcomber, dressed like a 15-year-old surfer, seeks old Star Wars flotsam that drifts in with the tide. An aged male ferryman wearing eye makeup trembles on the verge of senility (or upon the verge of some kind of characterization that doesn't come off).
And there's a thieving little boy wearing angel wings, in connection with some kind of midsummer night's costume party at a rural pub. No place for girls in this world; when one of the neglected women left behind calls her man, the cell phone gets tossed into the sea.
The group loses objects along the way. Among the possessions we don't see is the hat box that must have been needed to keep James' trademark fedora snappy and crisp despite the drizzle. The dialogue describes James, in his edge-of-the-grave honesty, as "a sick white Oprah." These stabs at shrewdness can't overcome the ambient cuteness. Death only looks cute from a distance; we can't feel this deadline at age 30 is any deeper than Logan's Run.
It's ultimately Cumberbatch's abilities that make him survive twaddly lines like "Picture me tap dancing in the firmament." Alan Rickman-like arrogance and Leslie Howard yearning meet in this interesting actor, and we'll be meeting him again.
Third Star
Unrated; 92 min.
Thursday, 7pm, Saturday, noon, Camera 3, San Jose