Movies
Deep Roots
Terrence Malick's masterful The Tree of Life digs into the psychic realms of a lost world: the 1950s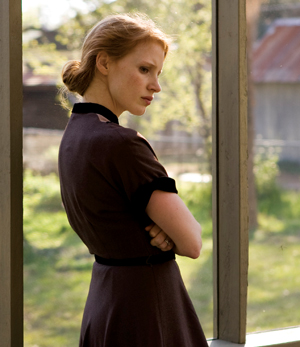 WITH A strong theme of feminine mercy vs. masculine authority, with its acute longing for reconciliation with the past, with its tender faith that "no one who loves the way of grace comes to a bad end," Terrence Malick's The Tree of Life states its themes as baldly as if it were a silent movie. It's surprising to see such an essentially simple film so roundly misunderstood.
The Tree of Life is not so much written as captioned; as always in Malick (Badlands, The New World), one can hear every interior monologue as if surrounded by ellipsis ("... hear us ..."). The images, sharp and yet lambent, are of a lost world—a peaceful world that breaks out in storms of color and rage. The calm center is Mrs. O'Brien. Jessica Chastain plays this "lover of the way of grace," and she's as much a dancer as an actress.
The story begins in the 1960s, back when the worst news was still delivered by telegram. A family's younger brother, just 19, has been killed. Malick implicates the military in the film's color scheme; the rigid father, Mr. O'Brien, still dresses in khaki and suntan-colored suits, as if he had never left the Army. We might well guess the boy died in Vietnam.
This memory of loss transfixes a man of today, Jack (Sean Penn). His 2011 is a terrible place. There is no shelter from the sky, just avenues of imprisoning glass and steel: Lovecraft-size atriums in a financial district.
"Find me," Jack hears—it is the call of his dead brother. As Jack rides a glass elevator through these towers, we glimpse a lone boxed-in tree: perhaps some scion of the tree that survived the Oklahoma City bombing or the similar surviving tree at Ground Zero in New York.
In memory, Jack is led back to his early childhood home in the outskirts of Waco, Texas, in the late 1950s. It's radical enough to make a 1950s movie without "Rock Around the Clock" on the soundtrack. It's absolutely drastic to remove references to television or cinema from the frame. Malick concentrates on what turns out to be far more evocative material: the vast, wide world of the younger Jack (Hunter McCracken) and his brother. In this world, Jack's father is his ruler and his bitter enemy.
Malick takes away the simplest motivations for a father's wrath: he's not a child abuser, and he's not a drinker. Brad Pitt's Mr. O'Brien is disenchanted, scheming for a way out of his factory job. He's a constant litigator, always pursuing patent cases. We see him, transfixed by pride, in the rotunda of the Texas state capitol. He's like a Catholic in the Sistine Chapel.
O'Brien loves classic music with a compulsion. He plays the organ in their church. He forces his family to listen quietly to classical records at dinnertime, to civilize them. In this lean, unsparing performance—his best—Pitt recalls the fierceness of the fathers of those days. He embodies their volcanic moods, their vanishing, their sudden inexplicable returns, their crucial need for obedience. Yet there is another way besides the path of domination. The red-haired, slim mother beckons to it.
People dismiss The Tree of Life as pretentious. That's fine; they said the same thing coming out of Sunrise, L'Atalante and The Magnificent Ambersons. Some few minutes of touchingly animated dinosaurs and inner and outer space make up The Tree of Life's soft underbelly. These moments of visual scope are all secured to the rest of the film. Jack plays in a field with boys who claim to have found a dinosaur bone. Microscopic animation of spirochetes at play match one of Mr. O'Brien's unsuccessful inventions: a kind of spring-loaded contraption, coiled like the bacteria.
Malick has sometimes been on unsteady narrative ground when making his transcendental cinematic essays about crime, war, labor or colonial history. He's much more assured making this memory play. The Tree of Life is the meeting place of cinema and sacred memory. It's an invocation of something that is all-seeing, all-remembering, death-defying.
PG-13; 138 min.
Opens Friday at Ciné Arts Santana Row and Ciné Arts Palo Alto