Movies
Trouble With the Curve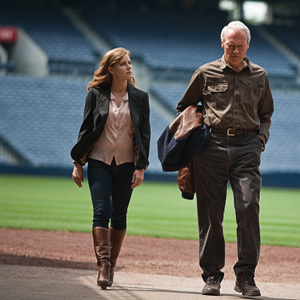 Fans of the "Eastwooding" meme will snicker when Clint kicks some sense into an end table that dared to bark his shins. But Trouble With the Curve transcends the easy laughs about Eastwood's beef with furniture, Randy Brown's creaky script and the problem of inflation that always occurs around a megastar.
Clint's Gus Lobel (pretty much pronounced Lobo, a lone wolf by any other name) isn't just a ruin. He has to be the Ruin: the baseball scout who discovered Chipper Jones and Dusty Baker, a scout heralded as someone who could "spot talent from an airplane," but whose eyesight is going dim (the reason he's running into things).
Trouble With the Curve's plot is a weak-sister version of Moneyball. There's a mighty computer (and the young snot who runs it) at the Atlanta Braves organization; both oppose Lobel's keen inner sense of baseball. On a road trip to spot talent, Gus patches his strained relationship with his vegan, workaholic lawyer daughter (Amy Adams), who'd much rather be eating bacon and watching baseball, whether she knows it or not. As a bonus, there's a handsome scout for the Red Sox (Justin Timberlake) lurking about waiting for her.
First-time director/longtime AD Robert Lorenz handles the North Carolina backgrounds, the saggy motels and the country cafes with all due gentleness and nostalgia. He builds up the subplotting to the kind of baseball parable that used to fill the Saturday Evening Post, contrasting a rising hot-dog hitter with a novice young state-of-grace natural pitcher.
The movie is slow but genial, and watching Eastwood's sadness and indomitability counters Trouble With the Curve's downside. There's the old-man's repetition of the tale, the rephrase of plot points (and re-rephrase) that's been a mark of late-period Eastwood. And there's an element of shamelessness in the way the movie starts with a grainy black-and-white nightmare of a stampeding death-horse. Eastwood has reminded us of his mortality almost as often as he's died in the movies—so much so that we can't take him seriously when Gus says things like, "I'm just a broken-down old man," as if we were going to underestimate him, or be just as dumb as the obnoxious punk he punches out here in one more barroom brawl.
PG-13; 111 min.