Movies
Wake in Fright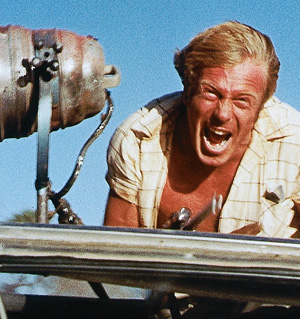 Almost lost but now gorgeously restored to views of startlingly sun-baked landscapes, Wake in Fright (1971) also has grindhouse draw. (Animal lovers, be warned: There's a brutal hunt stitched together from some documentary footage of a professional slaughter of kangaroos.) Wake in Fright is a morally slippery movie. Initially, you're as appalled as the intelligent but lofty school teacher John Grant (Gary Bond), a Sydneysider contractually obligated to teach in a one-room school in the back of beyond.
He's heading back to the city for a smotheringly hot Christmas break. Befriended by a copper (the first serious Australian movie star, Chips Rafferty), Grant goes on a gambling and beer bender in the fictional nearest big town, Bundanyabba: "The Yabba." The local drunks, some of them serious barbarians, pick him up and invite him into their 24-hour binge.
This could have been jolly: a stuck-up teacher bonds with friendly, hardworking, plain men during Christmas time. But the oversize Santa statue in town cackles like a maniac, heralding Grant's discovery of the barbarism in him—and the discovery of something else. He has a doctor's help for these diagnoses in the brilliant, anything-goes performance by top-billed Donald Pleasance. He's the town's physician, a Chekovian observer and a drunk—nay, not just a drunk, but the kind of person who, when asked what he does, says, "I drink."
The writer is Evan Jones, Joseph Losey's frequent collaborator. Losey had wanted to direct this film, which ended up in the hands of Ted Kotcheff, who helmed the somewhat similar debut of Rambo, First Blood. Here, as throughout Losey's films, is the queasiness at the thought of people getting too close. How times do change, though. The Yabba is played by Broken Hill, a tourist draw today; in a decade or two, it was going to be hosting the three trannies of Priscilla, Queen of the Desert. (That famous bus has been parked there permanently.) The more remote Australia seems, the more Kotcheff's Twilight Zone–ish approach is a punch to the gut.
The film's shocking revelation has also been softened by some producer's idea of a happy ending. But Wake in Fright is rich and weird and oddly thoughtful: Nightmare Alley with kangaroos instead of chickens, the kind of movie that arrives when a nation ceases to be a colony and gets really ready to study itself.
Wake in Fright
R; 114 min.