Movies
Neighsayer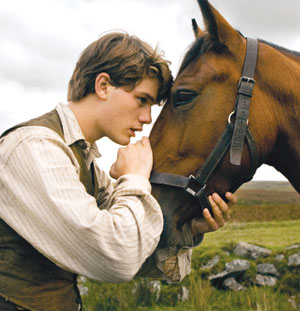 ONLY Steven Spielberg could do what is done in War Horse. Only he could have authorized the expensive World War I re-creations: a sumptuous cavalry charge, with officers Benedict Cumberbatch and Tom Hiddleston (depicting military arrogance and Rupert Brooke sensitivity, respectively). Only Spielberg could have achieved the harrowing camera pullbacks that display the mud and craters of the Western Front. But movies are more than war re-enactments. If Spielberg has enough clout to get away with historical buzzkill, he balances the death toll with barrels of sap.
Spielberg tries to gets around the callouses most audiences have developed against antiwar films by clapping a steel helmet on a horse. War Horse recycles the Black Beauty plot. One owner is kind, and Joey the horse gets oats and a warm blanket. The other owners (Germans, naturally) are cruel and sentence the beast to hard labor.
The film is bracketed by sequences of a rural Devon that, for unforgivable quaintness, always threaten to become John Ford's Ireland. They also come with retina-cooking crimson sunsets not seen since Gone With the Wind. Peter Mullan plays the tippling pa who decides to show up his landlord (David Thewlis with fancy whiskers) by outbidding the rich man on a thoroughbred, when he should have purchased a plough horse. Ma (the luminous Emily Watson, made to look like a sack of spuds) scolds away. Their son, Albert (Jeremy Irvine), knows he can train Joey to save the turnip harvest.
Comes the war, and first the horse goes and then the boy. Joey passes from the British cavalry to an idyll on a French farm with an ailing little girl and her granddad (Niels Arestrup). Finally, the steed is put to the hard labor of pulling obscenely oversized cannons with steel-shod wheels up a steep muddy hill.
Speilberg uses everything he knows to make anew the rural Disney dramas Robert Stevenson used to direct in the 1950s. He uses novel angles: the sight of a firing squad, eclipsed by a sweep of a windmill's blade, or the horse loose and masterless in No Man's Land, an image recalling the maddened war horse in Henri Rousseau's painting. The problem is ultimately one of a lack of economy. Spielberg couldn't resist an embedded series of endings: the turns of the screw that fracture this film's grandly produced but ultimately pure balsa-wood structure.
War Horse
PG; 146 min.