Movies
'Where Do We Go Now?'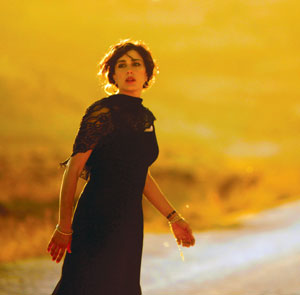 Nadine Labaki's follow-up to her soft-focus Franco-Lebanese film Caramel, asks the question Where Do We Go Now? The story begins and ends with a walk to the cemetery of a small Lebanese mountain hamlet. The women have come to tend the graves and to ornament the tombs with jars of weedy wildflowers. One side of the dirt path is Christian, and the other, Moslem. Both sides are filled with men too young to die but who got caught up in the sectarian fighting of a few years back.
The jewel of the town is the cafe owner Amale (Labaki), a heavy-lidded Catholic beauty. She's being flirted with heavily with the studly Moslem workman painting the place. The other trade in town comes from the commerce of a couple of enterprising young boys, who dare the mine-laden road to take goods to market in a town we never see. A series of misunderstandings develops into suspicions and quarreling. It's worsened by what looks like mutual vandalism on the two houses of worship, the mosque and the small Maronite church.
The matrons of the town decide to keep the peace by distracting the menfolk. They put their money together to haul in some Ukrainian dancers from the "Paradise Palace" go-go bar in town. These dancers pretend to be stranded, but their stay lengthens when they all become immobilized with bad sunburn.
As the film gets more crowded, even these flashy girls get neglected. Amale herself gets edged out of the film after she picks a pointless fight with her man. Verging on the incoherent and touching upon the silly, Where Do We Go Now? successfully avoids becoming yet another version of Lysistrata, thanks in part to Labaki's smart surprise ending. The village is a picturesque stone pile, a composite of three Lebanese towns Labaki found. And the director takes some due pleasure in the comfortably hammy performances, such as Yvonne Maalouf as the mayor's shrewd wife, who looks like Madeleine Albright.
As if they were watching sincere but slightly inept political theater, audiences will really try to meet Where Do We Go Now? halfway, wishing that it was as good as its humanist intentions.
PG-13; 110 min.